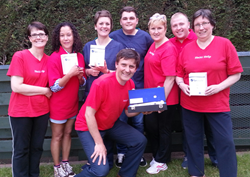 I am really pleased with the donation of the Perkins Tonometer and supply of Tonosafe prisms. It will make a huge difference in finding undiagnosed glaucoma, which is very prevalent in the Haitian population.
Harlow, Essex (PRWEB UK) 30 June 2014
Haag-Streit UK (HS-UK), the leading manufacturer and distributor of gold-standard optometry and ophthalmic equipment, has donated a Perkins Tonometer and a supply of Tonosafe disposable prisms to 'Haiti Help' in LaGonave.
Haiti Help is a charitable cause which was set up to provide medical care, help and support for children, orphans and victims of the tragic and disastrous events which took place back in 2010. The cause was established by three professional nurses shortly after their return to LaGonave, a small island off of the coast of Haiti.
Since its introduction, Haiti Help has provided medical assistance and support to a number of children and victims, many of whom are orphans. As the case with most charitable causes, Haiti Help is solely reliant on fund-raising and donations from outside organisations.
In April 2014, HS-UK was approached by Mr. David Cummins, an Independent Prescribing Optometrist and Assessor for the College of Optometrists, regarding an organised trip to LaGonave. Mr. Cummins and a team of medical professionals will be embarking on a trip to LaGonave this summer to provide medical help and assistance to around 200 people, mostly orphan children and elderly people living in bad conditions as a result of the 2010 earthquakes.
HS-UK has donated a Perkins Tonometer and a supply of Tonosafe disposable prisms to Haiti Help in hope that it will assist medical volunteers out in LaGonave to finding undiagnosed glaucoma cases.
Mr. Cummins and his team will be using the Perkins throughout their trip to Haiti to screen for glaucoma. The Perkins Tonometer will be donated to a community eyecare project after they leave Haiti, so that close and continuous monitoring can be carried out for years to come.
The Perkins is a hand-held application tonometer that combines proven accuracy, improved ergonomic design, longer lasting battery and excellent internal LED illumination. When partnered with Tonosafe, disposable prisms, that are a convenient and effective method of reducing the risk of cross-infection between patients, it becomes the perfect equipment to use out in the field in undeveloped countries.
Mr. Cummins said, "I am really pleased with the donation of the Perkins Tonometer and supply of Tonosafe prisms. It will make a huge difference in finding undiagnosed glaucoma, which is very prevalent in the Haitian population. The tonometer will not only serve an important function during my two week trip, but will continue to do good long after I have left."