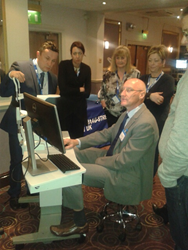 The Bristol-based courses were hugely successful and, once again, the practical workshops proved to be a big hit with delegates.
Harlow, Essex (PRWEB UK) 27 March 2015
Haag-Streit UK (HS-UK), the leading manufacturer and distributor of gold-standard optometry and ophthalmic equipment, recently hosted the fourth in its series of 'Improving Outcomes' biometry courses. The two-day training event took place on the Thursday 19th and Friday 20th March at the Double Tree Hilton Hotel, Bristol.
Both courses included a mixture of practical workshops and presentations from experts in the field of biometry, including; Mr David Sculfor, Consultant Optometrist and Mr Guy Smith, Consultant Ophthalmic Surgeon, Great Weston Hospital, Swindon.
Each course offered 7.5 CPD points and agenda items included presentations on; 'Introduction to Optical Biometry', 'Good Biometry Practice', 'Cataract & Refraction', 'Interpretation of Measurement Data' and 'Premier Channel IOLs'.
The courses were hugely-successful and similar in format to the recent London-based courses. Workshop topics included; 'IOL Power Calculation Formula', TORIC IOL Planning', 'Immersion Ultrasound', 'Adding & Editing IOL Data' and an 'Introduction to the T-cone' and proved extremely popular with attendees.
The LENSTAR LS 900 biometer was present throughout the two-days and hands-on demonstrations were available for delegates. The LENSTAR provides nine measurements per scan in fewer than 30 seconds, improving accuracy and accelerating workflow. It offers more precise K readings than any other optical biometer and all standard IOL predictions are built in to the software.
Sam Laidlaw, HS-UK Product Manager for Biometry, said; "The Bristol-based courses were hugely successful and, once again, the practical workshops proved to be a big hit with delegates. Attendees were given the opportunity to gain hands-on experience and obtain advice from experts in the field of biometry, as well as network with other delegates to discuss new ideas and tips that can be implemented into their own clinical practice."
Due to the on-going success and popularity of the 'Improving Outcomes' Biometry Courses, Haag-Streit UK can confirm that it will be hosting further courses throughout 2015. Dates, locations and guest speakers will be confirmed, once finalised.
###
For news media enquiries, please contact:
Emily Byham
Marketing Co-ordinator
Email: ebyham(at)haag-streit-uk(dot)com
DDI: 01279 456260
Mobile: 07900 828709
About Haag-Streit UK
Haag-Streit UK sells a complete line of optometry and ophthalmic equipment and has distributorships for some leading brands, such as; Haag-Streit International, Ellex and CenterVue and Haag-Streit Surgical (formerly Möller-Wedel).
A former division of Clement Clarke International Limite d, Haag-Streit UK has evolved since 1917 from a dispensing optician with one branch in London, to a manufacturing company which has designed and manufactured products such as the Perkins tonometer and Synoptophore.
These brands are marketed directly within the UK and through a network of distribution partners in more than 60 countries.
In 1989 Clement Clarke became part of the Swiss-based Haag-Streit Group and in 2001 began trading under the name Haag-Streit UK.
Haag-Streit UK promotes prevention, early detection, careful monitoring and effective treatment of retinal disease, glaucoma, corneal disorders, ocular motility and visual defects.
The organisation is dedicated to providing tailored solutions through the integration of information technology, leading brand ophthalmic instruments and unparalleled customer care. It focuses on the individual requirements of both the professional and the patient.
For additional information about Haag-Streit UK and its product portfolio, please visit http://www.haagstreituk.com.
Haag.270315.ImprovingOutcomesBristol2015