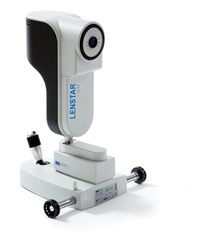 Harlow, Essex (PRWEB UK) 30 September 2013
Haag-Streit UK (HS-UK), the leading manufacturer and distributor of gold-standard optometry and ophthalmic equipment, is pleased to announce that Haag-Streit Diagnostics will be hosting a lunchtime seminar and biometry course at the XXXI congress of the ESCRS, taking place between 5th and 9th October 2013.
The lunchtime seminar, which is taking place on 5th October at 1pm, will allow attendees to learn about the latest exciting developments with the LENSTAR LS900 and help them improve refractive outcomes. Scientific evidence of three exciting developments will be presented at the seminar, taking place at Amsterdam RAI.
Dr Warren Hill M.D. will introduce the T-Cone Topography attachment and toric IOL calculation planning software for LENSTAR, which will provide surgeons with a superior platform for precise planning of toric IOL implantation.
Dr Edward Meier M.D. will then present his clinical results using the unique Olsen formula, which is now included with the LENSTAR. These feature the C-constant concept, providing unbiased prediction of the post-operative lens position, leading to IOL prediction in any eye.
Finally, Dr John Shammas M.D. will share his experiences with the new and improved cataract penetration ability of the recently introduced DCM mode.
As part of the ESCRS programme, the European Society of Ophthalmic Nurses and Technicians (ESONT) will be running a course on current biometry technologies and IOL calculations. They will be providing specific tips and tricks for the best use of the LENSTAR and other biometers. The course takes place on Saturday 5th October between 09.30 and 13.30 and is entitled 'Axial eye length measurement and IOL power calculation for refractive surgery'. The event will allow clinicians to gain hands-on experience with both the LENSTAR and other biometry devices.
For further information on the lunchtime seminar, please click here or for more information on the ESONT course, click here. For further information on the LENSTAR, please contact HS-UK on (01279) 456255, email lenstar(at)haag-streit-uk(dot)com or visit http://www.haagstreituk.com/lenstar.