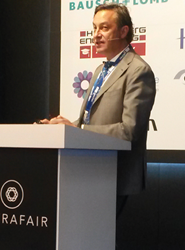 Harlow, Essex (PRWEB UK) 12 February 2016
Haag-Streit UK (HS-UK), the leading manufacturer and distributor of gold-standard optometry and ophthalmic equipment, is pleased to announce that it will be supporting education sessions at this year's Optometry Tomorrow event in Birmingham.
HS-UK is proud to be sponsoring three exciting educational lectures; 'True Colour & Infrared Confocal Wide-field Imaging', 'Introduction to OCT' and 'The Latest Developments in OCT-A'. These lectures will all take place on Sunday 13th March in the Salisbury Room at Hilton Birmingham Metropole.
The 'Introduction to OCT' lecture by Serge Pierrache will take place at 10.35am. This lecture will help delegates understand the basics of OCT and how to interpret a scan. It will cover the various utilities of the latest OCT instrument to include, a fast screening application for retina, glaucoma and pachmetry using the device. Clinical case studies will be presented to demonstrate the benefits of using OCT for diagnosing and managing various pathologies in the Optometric practice.
The 'True Colour & Infrared Confocal Wide-field Imaging' lecture by Marco Morales will take place at 12.00 midday. This lecture will help delegates understand confocal technology in retinal imaging and how to differentiate True Colour vs Pseudo Colour images.
Serge Pierrache's 'The Latest Developments in OCT-A' lecture will take place at 3.05pm. This lecture will address the latest OCT-A software advancements and how they can help monitor pathology, including some interesting case studies.
HS-UK will be exhibiting the Optovue OCT portfolio on stand 1, including the AngioVue OCT-A system and iScan and iFusion OCT devices. The Eidon wide-field confocal scanner will also be showcased. HS-UK staff will be available throughout the show to provide hands-on demonstrations.
To book your place on any of the HS-UK-sponsored lectures, please contact Victoria Chapman-Brown on 01279 456265 or email vcbrown(at)haag-streit-uk(dot)com or for more information, visit hsuk.co/OT_2016.