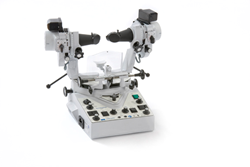 I am convinced that the Synoptophore still remains an important component of Orthoptic practice.
Harlow, Essex (PRWEB UK) 24 February 2014
Haag-Streit UK (HS-UK), the leading manufacturer and distributor of gold-standard optometry and ophthalmic equipment, has recently had the Clement Clarke Ophthalmic (CCO) Synoptophore reviewed by Marie Cleary, Chair of the BIOS Education Committee and Head of Orthoptics for Gartnaval General Hospital.
When reviewing the Synoptophore, Marie gave a comprehensive list of reasons why she believed that it is still a relevant piece of equipment in a 21st Century Orthoptic practice. Marie said, "Having been trained using the Synoptophore on a daily-basis, and being encouraged by my adult motility specialist to measure torsion in 9 positions of gaze with it, I remain a firm fan."
Marie advised that the Synoptophore offers a unique means of assessing projection and retinal correspondence. It can manipulate images presented to both eyes through the adjustment of size, form and brightness. This is distinct from other binocular vision tests.
Marie believes that the Synoptophore offers a clearer clinical picture. The assessment of Binocular Single Vision in manifest deviation can be more clear-cut than with other tests, due to the controls within the slides. Additionally, suppression areas can be more accurately assessed as the image can be moved in a continuous, rather than step-wise manner.
The Synoptophore reliably performs the most comprehensive binocular vision assessment available today, accurately measuring objective and subjective horizontal, vertical and torsional deviations. Marie argues that this is the Synoptophore's unique selling-point. The assessment of torsion also informs a surgeon when planning extra-ocular muscle surgery, retinal surgery or macular surgery.
Marie concluded by saying, "I am convinced that the Synoptophore still remains an important component of Orthoptic practice."
For further information regarding the Synoptophore, telephone Haag-Streit UK on (01279) 414969, email synoptophore(at)haag-streit-uk(dot)com or visit http://www.haagstreituk.com/synoptophore.