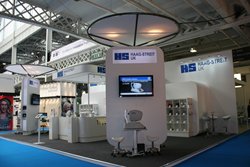 I am delighted that HS-UK will be exhibiting at 100% Optical for the first time in 2015, I believe that the show is not to be missed.
Harlow, Essex (PRWEB UK) 21 November 2014
Haag-Streit UK (HS-UK), the leading manufacturer and distributor of gold-standard optometry and ophthalmic equipment, is pleased to announce that it will be exhibiting at next year's 100% Optical show in London.
The event will be held on Sat 7th – Mon 9th February 2015 at ExCel, London. HS-UK will be showcasing some key optometry products including; the newly-launched CenterVue Eidon and the DRS retinal camera on stand M140 in the Equipment and Machinery section.
The Eidon is the World's first true colour, wide-field confocal scanner. This 2-in-1 device can be used for both diagnosis and screening. It offers true colour, infrared and red-free imaging, as standard. Boasting a 60° single field to 110° field retinal image, the Eidon utilises infrared light which can be used to detect early stages of AMD.
Thanks to its confocal technology, the Eidon provides high-resolution and contrast capabilities to image the fundus through cataracts and media opacities, with no optic disc bleaching. The Eidon offers fully-automated assessment (with manual override) and boasts easy-to-use tablet and toggle controls, all in a compact footprint.
The DRS is a fully-automated retinal camera that requires minimal operator training. Its compact ergonomic design features an integrated PC with a 160 GB hard drive, enabling storage of 50,000 images, whilst the low-power LED flash helps to ensure patient comfort. Designed to maximise patient flow and simplify the operation through an intuitive touch screen interface, the DRS offers excellent value-for-money for the modern optometry practice, without compromising on image quality.
Both the Eidon and DRS will be available for demonstration on stand M140. The HS-UK stand will also include a small shop which will enable delegates to purchase a variety of smaller optometry products including; Tonosafe disposable prisms and the popular Perkins Mk3 hand-held tonometer. Both will be available at exclusive 100% Optical promotional pricing.
Sharon Mills, HS-UK Marketing Manager, commented, "I am delighted that HS-UK will be exhibiting at 100% Optical for the first time in 2015, I believe that the show is not to be missed. HS-UK will be showcasing a number of quality optometry products on stand M140 and delegates will be given the opportunity to see the newly-release CenterVue Eidon in action. In addition, HS-UK will be offering some exciting price promotions exclusively at the event "
For more information on any of the products being showcased at 100% Optical, please contact Haag-Streit UK on 01279 883807, or email info(at)haag-streit-uk(dot)com.
###
For news media enquiries, please contact:
Emily Byham
Marketing Co-ordinator
Email: ebyham(at)haag-streit-uk(dot)com
DDI: 01279 456260
Mobile: 07900 828709
About Haag-Streit UK
Haag-Streit UK sells a complete line of optometry and ophthalmic equipment and has distributorships for some leading brands, such as; Haag-Streit International, Ellex and CenterVue and Haag-Streit Surgical (formerly Möller-Wedel).
A former division of Clement Clarke International Limited, Haag-Streit UK has evolved since 1917 from a dispensing optician with one branch in London, to a manufacturing company which has designed and manufactured products such as the Perkins tonometer and Synoptophore.
These brands are marketed directly within the UK and through a network of distribution partners in more than 60 countries.
In 1989 Clement Clarke became part of the Swiss-based Haag-Streit Group and in 2001 began trading under the name Haag-Streit UK.
Haag-Streit UK promotes prevention, early detection, careful monitoring and effective treatment of retinal disease, glaucoma, corneal disorders, ocular motility and visual defects.
The organisation is dedicated to providing tailored solutions through the integration of information technology, leading brand ophthalmic instruments and unparalleled customer care. It focuses on the individual requirements of both the professional and the patient.
For additional information about Haag-Streit UK and its product portfolio, please visit http://www.haagstreituk.com.