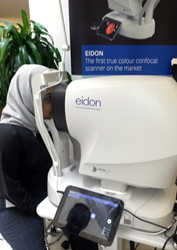 Harlow, Essex (PRWEB UK) 31 July 2015
Haag-Streit UK (HS-UK), the leading manufacturer and distributor of gold-standard optometry and ophthalmic equipment, is pleased to announce that it will be exhibiting at this year's Cambridge Ophthalmological Symposium event, on the 3rd - 4th September 2015.
HS-UK will be showcasing a selection of key products within its product portfolio, including; the recently-launched Integre Pro Scan pattern scanning laser, AngioVue OCT-A device, the Eidon wide-field, true colour confocal scanner.
The Integre Pro Scan combines multi-colour photocoagulation with pattern scanning in an all-in-one laser and slit lamp design. Unlike other photocoagulator systems, which require an external dichroic or fixed mirror to connect the slit lamp, it is designed to channel the laser directly through the slit lamp optics. This results in better visualisation and optimal illumination.
The AngioVue is the first commercial OCT-A system capable of imaging and displaying the function of the ocular microvasculature, through a non-invasive procedure. The innovative system uses a unique dyeless technique to quickly evaluate the functional blood flow of the retina and optic nerve. This method allows the procedure to be performed in everyday clinical practice and unlike fluorescein angiography, can be repeated as often as required, and with no risk to the patient.
Boasting a 60° field in a single exposure and a wide-field of up to 110°, the new Eidon from CenterVue is the first true colour confocal scanner with infrared and red-free imaging, as standard.
The Eidon offers fully-automated assessment (with manual override) and boasts easy-to-use tablet and toggler controls, all in a compact footprint. Its 14 Mpixel CMOS sensor delivers high-quality imaging with no optic disc bleaching, providing excellent visualisation of detail.
Product demonstrations will be available on the HS-UK stand throughout the duration of the show, as well as some great opportunities for delegates to gain hands-on experience with key items of the HS-UK product portfolio.
To register for the Cambridge Ophthalmological Symposium 2015, please visit http://www.cambridge-symposium.org/registeronline.html