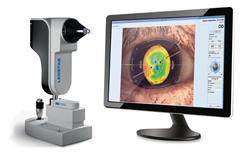 Harlow, UK (PRWEB UK) 4 September 2015
Haag-Streit UK (HS-UK), the leading manufacturer and distributor of gold-standard optometry and ophthalmic equipment, is pleased to announce that it will be partnering with Focus Clinic to host a 'Biometry Bitesize' course at their prestigious Wimpole Street Clinic.
The exclusive CET course will take place at 5.30pm on 4th November 2015. The aim of this course is to provide Optometrists with a 'bitesize' overview of biometry, which will include practical information that attendees can utilise in their daily practice.
The agenda will cover the anatomy of the human eye, along with the main principles of optical biometry. Delegates will also learn how to understand IOL power calculations in post-refractive surgery. In addition, there will be an exciting interactive session to discuss a real-life Focus Clinic case study.
During the evening, there will be an opportunity to view Focus Clinic's state-of-the-art treatment room and gain some hands-on experience with market-leading diagnostic equipment.
Practical workshops will be provided, offering the chance to learn from experts in the biometry field. By the end of the course, attendees will be able to confidently guide patients who enquire about cataract or refractive surgery.
The course will be CET-accredited (CET points have been applied for, but still to be confirmed by the General Optical Council).
To reserve your place at the 'Biometry Bitesize' event, simply telephone 0207 307 8250 or email info(at)focusclinics(dot)com.