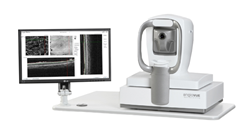 Harlow, Essex (PRWEB UK) 4 February 2015
Haag-Streit UK (HS-UK), the leading manufacturer and distributor of gold-standard optometry and ophthalmic equipment, was appointed sole distributor of the Optovue, Inc. product portfolio in the UK today (4th February 2015).
The Optovue portfolio includes the; Angiovue OCT Angiography system, iVue, iFusion, iScan and XR Avanti OCT products. HS-UK will officially launch the Optovue iFusion and the new iScan on stand M140 at the 100% Optical event in London on the 7th February.
iScan is easy-to-use and requires minimal training. It has a small footprint and is ideal for a range of clinical settings. The fully-integrated system includes a full suite of retina, optic nerve and anterior segment scans with normative database comparison. It detects the eye to be scanned, aligns the camera over the pupil and optimises the scan signal strength. After completing scan acquisition, iScan evaluates each scan to ensure quality data has been captured.
iFusion combines the best of Spectral-Domain OCT and Fundus imaging by adding the powerful OCT capabilities of iVue and high-quality imaging from the iCam retinal camera mounted on a single, integrated, versatile platform that will add value to any practice.
The revolutionary new Angiovue OCTA system is the world's first commercial OCT angiography system. This innovative OCT system is a non-invasive and dyeless technique for quickly evaluating functional blood flow of the retina and optic nerve head. The Angiovue provides the clinician with high-resolution images of the dynamic vascular structures throughout any individual layer of the eye.
The new Angiovue OCTA system will be showcased at the Royal College of Ophthalmologists (RCO) Annual Congress in May.
For more information on Optovue, Inc products, please call Haag-Streit UK on (01279) 883807, or email optovue(at)haag-streit-uk(dot)com.
For news media enquiries, please contact:
Sharon Mills
Marketing Manager
Email: smills(at)haag-streit-uk(dot)com
DDI: 01279 456264
Mobile: 07850 311448
About Haag-Streit UK
Haag-Streit UK sells a complete line of optometry and ophthalmic equipment and has distributorships for some leading brands, such as; Haag-Streit International, Ellex and CenterVue and Haag-Streit Surgical (formerly Möller-Wedel).
A former division of Clement Clarke International Limited, Haag-Streit UK has evolved since 1917 from a dispensing optician with one branch in London, to a manufacturing company which has designed and manufactured products such as the Perkins tonometer and Synoptophore.
These brands are marketed directly within the UK and through a network of distribution partners in more than 60 countries.
In 1989 Clement Clarke became part of the Swiss-based Haag-Streit Group and in 2001 began trading under the name Haag-Streit UK.
Haag-Streit UK promotes prevention, early detection, careful monitoring and effective treatment of retinal disease, glaucoma, corneal disorders, ocular motility and visual defects.
The organisation is dedicated to providing tailored solutions through the integration of information technology, leading brand ophthalmic instruments and unparalleled customer care. It focuses on the individual requirements of both the professional and the patient.
For additional information about Haag-Streit UK and its product portfolio, please visit http://www.haagstreituk.com.
About Optovue
Optovue, Inc. is a privately-held ophthalmic device company dedicated to working with eye care professionals and clinical researchers to lead the commercialization of new imaging modalities.
Optovue has achieved widespread market success through a combination of unique data analysis design, a reputation for excellent customer service and support, and rapid innovation of its technology in response to physician feedback.
The company is headquartered in Fremont, California, with Satellite offices in Encinitas, California.
For additional information about Optovue and its product portfolio, please visit http://www.optovue.com.
Haag.040215.Optovue