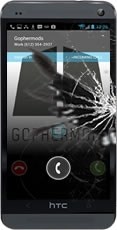 Minneapolis, MN (PRWEB) September 23, 2013
Increasingly forgetting that the phone is on your lap when getting out of the car, to only see it fall directly to the asphalt that one time you couldn't catch it and watch the screen break? This is a situation most smartphone owners deal with much too often, which is why Gophermods is thrilled to present the new HTC One screen repair to their collection of HTC repairs.
The HTC One screen repair will start at $249 and will consist of the removal of the Gorilla glass outer layer, HD display, front housing with bezel. Furthermore, the aluminum back housing must be removed during this repair, but Gophermods will replace your back housing with a brand new replacement. Included in the service is all parts, labor, round trip UPS ground shipping, and a Gophermods standard one-year warranty.
In March, the gurus at iFixit awarded the HTC One a reparability score of 1/10. It is the worst rating ever for a smartphone. "It turns out that the HTC One's guts are glued into the machined aluminum casing. So if you want to replace anything inside, at best you'll just disfigure the perimeter of the device," iFixit said.
Repair manager Casey Profita said, "It was discouraging to see how tough the HTC one screen repair would be, but working with suppliers, Gophermods was able to source the aluminum housings the HTC One is designed with. The repair price is much higher compared to other HTC models since the housing is replaced too."
As of September, Gophermods is still the only company brave enough to tackle the HTC One repair. The HTC repair is available to their nationwide mail-in program and in Gophermod's locations in Plymouth, Minneapolis and Cottage Grove.
Still think $249 is too steep of a price to charge for a phone repair? The price is still much less than replacing the phone, current replacement price of an HTC One out of contract is $599.99 and used models can be found in the $500-550 range on outlets such as eBay and Amazon.
Have any questions about HTC One repair? Feel free to contact Gophermods customer service at 612-354-2937 with any questions.
About Gophermods
Gophermods is a Minneapolis-based company that specializes in consumer electronics repair. Each year, Gophermods repairs thousands of consumer devices with OEM parts and professional know-how. Gophermods is the one stop shop for full-service game console, iPad, iPhone, iPod and Smartphone repairs.
Gophermods is accredited though the Minneapolis-St.Paul Business Bureau and is a Proud Member of the Minneapolis, MN Chamber of Commerce.
Gophermods
1170 15th Ave SE
Minneapolis, MN 55414
612-354-2937