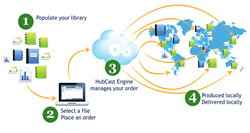 HubCast allows global marketers to print what they need, where they need it, and when they want it, all with a few clicks of a mouse." Larry Letteney, CEO, HubCast, Inc.
BOSTON, MA (PRWEB) March 03, 2015
HubCast® Inc. (http://www.hubcast.com), the leader in Global Print Supply Chain, today announced the expansion of its Global Print Supply Chain with next-day delivery of commercial quality, color-matched print to 850 of the world's largest cities across 75 countries globally. The HubCast Global Print Supply Chain extends to 137 countries providing global enterprises ease, speed, reach, quality, cost savings and control over the print procurement process from online order to real-world delivery at postal address around the globe.
The company also announced the immediate availability of a new release of its industry-leading Global Print Supply Chain software HubCast Enterprise, as well as two new products: HubCast WorldTeam for global sales and marketing teams, and HubCast One for power users in marketing and design roles.
"We're delivering more products to more countries, more quickly than anyone in the world. And, with this new release of our Global Print Supply Chain software, we're providing the powerful and flexible tools our customers require," said Larry Letteney, CEO at HubCast. "We allow our customer to print what they need, where they need it, and when they want it, all with a few clicks of a mouse. HubCast breaks down the barriers of complexity, cost and time, and helps our customers get their jobs done more quickly and more easily."
Expanding Worldwide Network:
Meeting the needs of enterprises conducting business in the global marketplace, HubCast's Global Print Supply Chain links more than 50 Print Service Providers (PSPs) located around the globe. Sophisticated cloud software-based workflows, pricing and routing algorithms, and quality and color management deliver commercial quality print and next-day delivery to the farthest reaches of the globe and in the most complex environments. Some HubCast Global Print Supply Chain metrics:

Next-day service to 75 countries and 850 of the 900 largest cities worldwide
Service to 137 countries
50+ certified HubCast PSPs worldwide
Daily capacity of 3.5 million full color A4 (digital) sheets
Comprehensive printing capabilities globally: digital, offset, large format
Warehousing, fulfillment and mass-mailing capability on every continent
New Products Extend Enterprise Capabilities, Add New Departmental and Power User Solutions:
HubCast is announcing the immediate availability of a range of scalable HubCast Global Print Supply Chain solutions to support use cases across the enterprise.
HubCast Enterprise
HubCast Enterprise is designed for global enterprises with networks of geographically dispersed offices and channel partners. Through its easy-to-use, self-service ordering process, HubCast Enterprise can accommodate thousands of users, enabling employees and channel partners anywhere in the world to log into an online "corporate store," select pre-approved files, specify quantity, and schedule delivery.
HubCast Enterprise scales to support increasing numbers of users, documents, channels, and administrative tools; and includes a comprehensive suite of reporting tools, providing operational data for analysis and reporting. Enterprises can track usage and expenses by document, cost center, and region. Establish charge backs. Build in notifications and calculate the reduced costs of shipping, warehousing, and obsolescence.
HubCast World Team
HubCast World Team reduces the time and resources required to order, print, and deliver marketing materials. It provides an online library, easy to use interface, and global network of Print Service Providers, enabling marketing teams to respond quickly to field requests for marketing tools while maintaining control of the content and quality of all print materials.
HubCast One
Optimized for power users in marketing and design roles, HubCast One enables enterprises to print and deliver commercial-quality print materials to offices and events around the world, on-demand.
HubCast Custom
HubCast's Custom Services Organization helps enterprises manage special projects where in depth knowledge of printing and finishing are required, including large format posters, training materials, rack cards, colored paper, and multi-fold brochures. HubCast can manage custom projects from initial request to final delivery, delivering the same high-quality print, fast turnaround, and global delivery of the company's other solutions.
For more detail on HubCast Global Print Supply Chain solutions visit: http://www.hubcast.com/solutions/
About HubCast
Developed and uniquely provided by HubCast, Inc. (Wakefield, MA USA), the HubCast Global Print Supply Chain uses The Cloud to provide enterprises with an unprecedented ability to order, print, and deliver commercial-quality marketing print anywhere around the globe with service as fast as next-day. HubCast solutions give global enterprises and brands the speed, ease, and reach necessary to deliver print where it's needed when it's needed, while maintaining exacting quality standards and dramatically increasing the cost-effectiveness & efficiency of print and marketing processes worldwide. Visit http://www.hubcast.com or call us: 877.207.6665 (USA) or +1.781.221.7200 (outside the USA)
HubCast, HubCast Global Print Supply Chain, and all associated logos and designs are trademarks or registered trademarks of HubCast Corporation. All other trademarks or registered trademarks are property of their respective owners.
##
Tags:
Global Print Supply Chain, Business Printing, Printing for Marketers, Global Printing, Trade Show Printing, Print and Production Management, Marketing Automation, Cloud Printing, Print On Demand