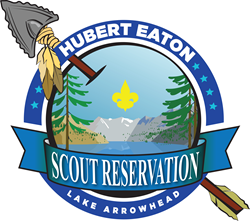 Thanks to the AS&F Foundation, the Hubert Eaton Scout Reservation will create lasting memories for generations to come. - Gerry T. Morton, Chairman of the Board and Council President
Los Angeles, CA (PRWEB) July 29, 2017
The Boy Scouts of America - Greater Los Angeles Area Council (GLAAC)] announced a historic $10 million gift from longtime supporter AS&F Foundation. The donation will endow GLAAC's high adventure mountain camp near Lake Arrowhead named the Hubert Eaton Scout Reservation (formerly Forest Lawn Scout Reservation). The camp, offering outdoor opportunities since 1950 and currently serving over 10,000 youth annually, honors the generous and visionary legacy of AS&F Foundation's founder, Hubert Eaton.
Over the past decade, the AS&F Foundation has given generous camp scholarships and capital improvement grants to GLAAC that have benefited thousands of children, youth, and families. "We believe the camping experience provides opportunities for kids to make new friends, gain confidence, acquire new skills, and develop a sense of self that cannot always be learned at home. We've seen first-hand the transformative impact of Scouting," said AS&F Foundation Chairman John Llewellyn. "We are grateful for this incredible gift from the AS&F Foundation that that will ensure the long-term sustainability of this outstanding camp," said GLAAC Chairman of the Board and Council President Gerry T. Morton
Llewellyn added, "As we sunset the foundation, our trustees wanted to ensure this outdoor laboratory and high adventure resource is available for all Scouts, including those from high-risk, inner-city neighborhoods." "For many of our inner-city youth, our camps are their first exposure to a mountain, a lake or the ocean. This experience broadens horizons and empowers youth to explore new territories and take on new challenges," stated GLAAC Scout Executive Jeff Hunt.
GLAAC, committed to serving Scouts from all communities, is honored to be among the limited organizations to receive such a major gift from AS&F Foundation which has decided to distribute all its assets after more than 60 years of grant making. "AS&F has been a long-time supporter of Scouting. Through their extraordinary investment, the Boy Scouts of America, Greater Los Angeles Area Council will continue to deliver a strong character building and leadership development program to a growing membership of youth. Thanks to the AS&F Foundation, the Hubert Eaton Scout Reservation will create lasting memories for generations to come," stated Morton.
AS&F Foundation
John Llewellyn is a Distinguished Eagle Scout and past Council President for the Los Angeles Area Council. His great-uncle, Hubert Eaton founded the AS&F Foundation (formerly the Forest Lawn Foundation), dedicated to "God and Humanity." Over the years, contributions to the Foundation were from Eaton's estate and from American Security & Fidelity Corporation (AS&F) and its subsidiaries. AS&F was a development corporation controlled by Eaton. After his death, his nephew, Frederick Llewellyn, assumed the role of CEO and he was followed by his son, John Llewellyn. The $10 million gift and renaming of the camp is in honor of Eaton's great legacy and impact on youth. After more than 60 years of grantmaking, the AS&F Foundation's trustees decided that the Foundation could have a greater impact by distributing all its assets in transformative grants to a limited number of organizations.
The Hubert Eaton Scout Reservation
The Hubert Eaton Scout Reservation (formerly Forest Lawn Scout Reservation) is a nationally accredited camp and one of the highest-quality and safest programs in the country. Located 5,300 feet above the San Bernardino Valley near Lake Arrowhead, this residential camp offers everything a Scout desires: 41 merit badges, swimming pool, shooting, trading post, hiking, fishing, zip lining, rock climbing, and a Challenging Outdoor Physical Education (COPE) course. More than 5,000 youth (ages 6 – 17) attend camp each year. The Foundation's endowed gift provides ongoing support for the camp's maintenance, operations, and capital improvements.
Boy Scouts of America, Greater Los Angeles Area Council
Since its founding in 1915, the Greater Los Angeles Area Council has brought the Boy Scouts of America's purpose and values to millions of youth. The Council has over 26,000 youth members and engages over 11,000 trained adult volunteers. To support all communities, the Greater Los Angeles Area has developed strategic initiatives to serve at-risk, inner-city youth (60% of families live below the federal poverty line).
The Boy Scouts of America is one of the nation's largest and most prominent values-based youth development organizations. For over a century, the Boy Scouts of America has helped build the future leaders of this country. Through experiential learning opportunities, Scouting instills youth with the virtues of honor, respect, character, healthy living, and citizenship as well as a deep appreciation of the great outdoors, leadership, and team work. Scouting offers boys and girls, ages 6 to 21, activities that are fun and enagaging, based on age-appropriate interests, ability, and maturity through its Cub Scouts, Boy Scouts, Venturers, and Explorers programs.