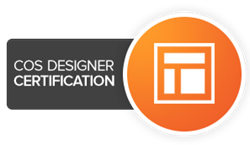 Market 8 is one of the first 3 firms to get the HubSpot COS Designer Certification Status
Miami, FL (PRWEB) August 30, 2013
Last week, the HubSpot COS was unveiled at the Inbound 2013 conference in Boston. Since then, marketing agencies have been given the opportunity to prove they have what it take to design and build websites for the COS. Market 8 is one of the very first first to get its full HubSpot COS Designer certified status. They passed the certification on August 27, 2013.
The HubSpot COS is a system that blends content and context to create rich, personalized experiences for everyone viewing your blog, website, landing pages, and emails. It basically allows firms to personalize what their website pages show depending who is looking at it, whether it is a first time visitor, a lead ready to buy, or a repeat customer, for instance; and it allows to create fully responsive websites, out of the box.
The Hubspot COS Designer certification recognizes firms that are prepared to provide high quality templates for the HubSpot COS, by adhering to marketing and structural best practices.
The coveted certification tests knowledge and proficiency with the template design tools in the HubSpot Content Optimization System, or COS
"Being one of the first 3 firms to get the HubSpot COS Designer certification is really exciting," said Eduardo Esparza, president of Market 8. "We are very happy to continue on focusing on designing and developing websites for HubSpot, now that it's specially designed to exploit the capabilities of the COS."
_________________________________________________________________________
Market 8 is an agency specialized on B2B web design and inbound marketing, that helps clients increase revenue by growing their traffic and increasing conversions online. A fully integrated agency, Market 8 specializes in marketing strategy, website development, conversion optimization, video marketing, and marketing analytics including specific prospect and lead tracking.
Market 8 has honed in a methodology to create Customer Centric B2B websites and content based on the exact needs of buyers through their lifecycle.
To learn more about Market 8's Customer Centric B2B web design services for the HubSpot COS,visit their website.