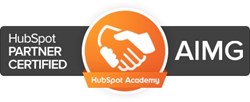 AIMG recognizes the value HubSpot's marketing automation platform will provide many of its key clients.
Lake Success, NY (PRWEB) December 19, 2013
Having embraced the concept of "inbound marketing" even before the term was coined, AIMG recognizes the value HubSpot's marketing automation platform will provide many of its key clients. In order to ensure clients receive the optimal benefits HubSpot offers, AIMG staff completed the required training to become a Certified Agency Partner.
"Since launching our company in 1994, we have strived to provide clients with practical yet innovative approaches to marketing their products and services," said Joe DeMicco, Founder & CEO of AIMG. "With the explosive growth of social media and blogging, audiences have gained complete control over what content they choose to interact with and where. It is more important now than ever before that clients understand what distinguishes their buyer personas and where they are in the buying process. This insight presents the opportunity for AIMG to develop engaging content that speaks directly to their needs and leverage HubSpot's marketing automation platform to publish that content to the right channels at the right time. Analytics integrated into the entire process provide quantitative results for measuring return on marketing investment (ROMI)."
A full service marketing and web development agency, AIMG will continue to offer its full complement of online advertising and web development services, as well as traditional offline media services and graphic design. For more information about AIMG please visit http://www.aimg.com or call (888) 238-7552.
About AIMG
Established in 1994 as Accurate Imaging, Inc., AIMG is an Internet Marketing, Web Development, Search Engine Optimization (SEO) and Small Business Development agency with offices in New York, New Jersey, and North Carolina. Visit http://www.aimg.com or call 1-704-321-1234 or toll free 1-888-238-7552. Watch AIMG's recently released Small Business Solutions video to learn more about how AIMG brings business to Business.
About Joe DeMicco
Joe DeMicco (http://www.linkedin.com/in/joedemicco) is the founder and CEO of AIMG. He has been a web and marketing consultant for 20 years. He started his flagship company Accurate Imaging in 1994, which he re-branded as AIMG in 2009. An alumnus of the Goldman Sachs 10,000 Small Businesses program, Joe continues to present online marketing webinars to past and current participants of the program. Joe is a recognized small business specialist and offers business development tips on his blog http://www.DeMicco.com.
Client Testimonials
"Joe DeMicco and his team at AIMG are the best you will find in the field. Highly knowledgeable and extremely creative, they were not only able to understand my needs, my brand, and my goals, but create options I hadn't even considered to maximize my web marketing strategy. As a small business owner, I felt I had a whole IT department all of a sudden and customer service is amazing. You are assigned your own client relations representative that readily answered questions and helped navigate the process. I would highly recommend AIMG for any online needs you may have. They go above and beyond and the experience has been fantastic."
Ayala Donchkin, Exec. Chef & Owner - Evelyns-Kitchen.com
"If you're serious about making changes that will grow your business, getting quality exposure on the internet, and are looking to work with an experienced professional in the industry, then Joseph DeMicco is the man. I learned so much more in two 45 minute consultations with him than I ever expected – even before formally hiring him. I strongly recommend his services."
Jimmy Moyen, President – FirstChoiceMechanical.com
"With the search engine optimized website developed by AIMG I achieved page one rankings in Google for my top sellers, beating out my competitors, and magnifying sales with over 62% increase in revenue."
Rusty Ponce de Leon, President – Phase1Tech.com
"Joe owns his industry. I could tell from our first conversation that he knew what he was talking about and what he could produce. He understood our business before he walked in so we didn't have to do a lot of explaining. He loves what he does and he is able to communicate the excitement of the possibilities for us."
Janet Caldwell, Vice President – TheForkliftPro.com