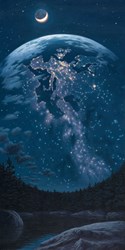 My paintings are examples of my attempt to connect the experiences we have between two separate worlds.
N. Bethesda, MD (PRWEB) December 24, 2013
The newest painting by Rob Gonsalves has arrived. "Night Lights" is the recent addition to the collection of surrealist-illusionary paintings, also referred to as Magical Realism, by the Canadian artist at Huckleberry Fine Art in N. Bethesda, MD.
"Night Lights" is the fusion of two completely separate realities coexisting seamlessly as one. The bottom of the painting opens up to a quiet lake surrounded by trees. Your eyes are carried up past the treetops and land on the brightly lit cluster of stars, and this is where the magic takes shape. The view of looking up to the stars has flipped to looking down at Earth as if from a satellite with the stars transforming into the luminous cities of Europe.
Physicists have said that Gonsalves' art is a visual example of two contradictory forces that exist at the same time. In other words, these paintings show Quantum Mechanics. "My paintings are examples of my attempt to connect the experiences we have between two separate worlds," says Gonsalves.
"There is no other artist out there that does what Gonsalves does," says the publisher of Rob Gonsalves' prints and owner of Huckleberry Fine Art, Boots Harris. Gonsalves has released over 70 of these Magical Realism paintings, and has sold every one. When he started with Huckleberry Fine Art 19 years ago, he was selling these whimsical paintings for $2,200 each. Now, an original painting costs upwards of $50,000 - $55,000, and the 2 - 2.5 year wait time does require patience on the collector's part.
For the art connoisseur with a more limited budget, Gonsalves' magical art is available in limited-edition, signed and numbered giclee prints. Today, 33,000 of his limited-edition prints have sold, 11 have completely sold out and five more are on the "endangered species list" as Harris playfully puts it.
Gonsalves is one of the most famous living Surrealist painters in the world today, and he doesn't show signs of slowing down. Once you see his art, it isn't hard to understand how each painting continually amazes.
Contact:
Boots Harris
Huckleberry Fine Art
http://www.huckleberryfineart.com
301-881-5977
About Huckleberry Fine Art
As the premier art gallery in the Washington, D.C., metropolitan area, Huckleberry Fine Art specializes in finding emerging artists locally and internationally. Since its existence, the gallery has been exhibiting a vast collection of vibrant oil and acrylic paintings, limited edition signed and numbered prints, sculpture, photography, art books and custom framing. Huckleberry Fine Art has established a successful publishing division with the introduction of artist Rob Gonsalves`s limited edition prints. For more information, visit http://www.huckleberryfineart.com.