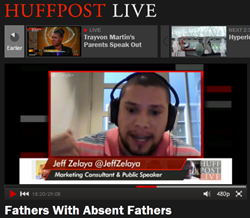 "As I held my son for the very first time and felt an overwhelming love for this human being in my arms, in the back of mind I thought about my father and instead of feeling angry or resentful, I felt gratitude." - Jeff Zelaya
Washington D.C. (PRWEB) July 18, 2013
The HuffPost Live segment titled "Can a Bad Father Figure Damage a New Father?" was hosted by Marc Lamont Hill, an American academic, journalist, author, activist, television personality and father.
The Associate Producer of the HuffPost Live reached out to Jeff Zelaya after reading his blog post: "Why growing up without a dad was the best thing to happen to me!". The blog post touches upon Jeff Zelaya's recent experience in becoming a first time father and went viral garnering hundreds of shares, likes and interactions.
This discussion was inspired by Pastor Michael W. Water's, Huffington Post article "Jay-Z and the Misappropriation of Fatherhood". Jay-Z's 12th studio album touches on the sensitive issue of becoming a parent despite never having a father figure. The question discussed was "Can fatherless fathers be great parents without having good examples to follow, or is it a never ending cycle?"
Other guests on the segment were
•Thabiti Boone (New York , NY) Fatherhood Advisor to the Allan Houston Foundation
•Derek Phillips @RealDadsNetwork (New York , NY) Founder and Executive Director Real Dads Network
•Jeff Allanach @JeffAllanach (Urbana, MD) Blogger of 'Adventures In Fatherhood'
•Mark Anthony Neal @NewBlackMan (Durham, NC) Professor of Black Popular Culture at Duke University
The segment has been recorded and can be watched here: http://huff.lv/110u93I.
About the HuffPost Live:
Huffpost live is a live streaming network that uses the HuffPost universe -- the stories, editors, reporters, bloggers, and community -- as its real-time script.
About Jeff Zelaya:
Jeff Zelaya is a Marketing Consultant, Public Speaker and the Founder of Miami Public Speakers Inc. Learn more about Jeff at http://jeffzelaya.com