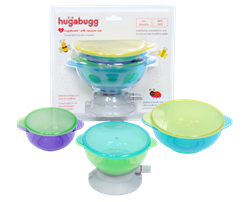 We were determined to develop a product that actually delivered on the promise of keeping the bowls stuck to the surface from which your child was eating.
Pittsburgh, PA (PRWEB) April 05, 2016
Hugabugg, a family-owned company specializing in toddler dining accessories, is launching its first line of suction bowls called Hugabowls, which help prevent toddlers from flinging bowls across the room.
Hugabowls utilize a vacuum cup that suctions to most dining surfaces, far superior to any similar product on the market. The bowls click onto the vacuum cup creating a secure feeding system that allows your toddler to eat and practice utensil dexterity without tipping over their food. The snap-tight lids make on-the-go feeding and storing leftovers even more convenient.
Joe Gatial, a board certified pediatrician, and his wife, April, developed Hugabowls after trying a variety of suction bowl and plate brands with their own toddler, all of which ended up on the floor. The frustrated parents were inspired to create a superior product that stays in place, is easy to use, and is convenient to store and clean.
"As a pediatrician, one of the biggest complaints I hear from parents is how stressful mealtime can be," said Dr. Gatial. "Since developing Hugabowls, our dinnertime stress level has decreased dramatically and we are excited to share our innovation with other parents to help make their mealtimes easier, too."
Hugabowls are BPA, lead, phthalate and PVC-free, as well as microwave and top-rack dishwasher safe. The Hugabowl package includes three bowls of varying sizes, three accompanying snap-tight lids and a vacuum cup.
Hugabowls are available for $24.99 exclusively on Amazon.com. Hugabugg plans to expand with a line of divided plates and non-slip bowl accessories. For more information about Hugabugg, including images and videos, visit Hugabugg.com.