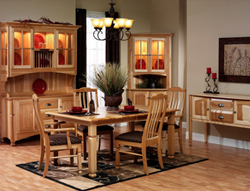 Stop by today to take advantage of some really nice deeply discounted furniture pieces in our showroom.
SHIPSHEWANA, Ind. (PRWEB) June 28, 2019
Weaver Furniture Sales is giving customers added reasons to celebrate this 4th of July. The Shipshewana, Indiana, furniture store is offering huge savings in their exciting July 4th Sale. The sale runs June 29 through July 8, 2019, at Weaver Furniture Sales' 20,000 square foot store. "Stop by today to take advantage of some really nice deeply discounted furniture pieces in our showroom," states owner LeRoy D. Weaver.
All 5,000-plus items at Weaver's massive showroom floor are on sale. The savings include 70% off select closeout items. Also, Weaver is offering grandfather clocks at 40% off. Plus, customers can get 13% off all items storewide.
This means customers who have been thinking about purchasing Amish furniture and accessories can now buy them at reduced prices.
Weaver is offering special financing to make it easier for customers to take possession of in-stock items during the sale. The program includes 18 months with no interest payments also called 18 "Equal Pay" monthly payments. The special financing is subject to credit approval. Sales associates at Weaver can provide additional information.
Weaver Furniture Sales is open daily from 9 a.m. to 5 p.m. (9 a.m. to 2 p.m. on July 4). The store is open 9 a.m. to 4 p.m. on Saturday, and is closed on Sundays.
The 20,000 plus square foot Weaver Furniture Sales is located 1/4 mile south and 1/4 mile east of the junction of State Road 5 and US 20 in Shipshewana, Indiana. Find the store easily near the quaint Shipshewana downtown area just off the Indiana Toll Road. If you find a piece you like in the Weaver Furniture Sales store you are free to purchase it and take it with you. Weaver Furniture Sales also offers several delivery options for the convenience of their clients.
For more information, visit Weaver Furniture Sales website. Or call 260-768-7730.
About Weaver Furniture Sales
Weaver Furniture Sales was established in 1989 in Shipshewana, Indiana. An Amish, family-owned furniture business, Weaver offers a full line of solid wood, Amish furniture at affordable prices. And Weavers caters to both residential and commercial customers. The company features Shaker, Mission and Traditional furniture styles. As part of their client services, Weavers provides furniture design consultation services, custom furniture options, furniture quotes, layaway options and various delivery alternatives for residences and businesses in the United States.
LeRoy and Ida Weaver own and operate Weaver Furniture Sales. They began with a 1,500 square foot showroom, which has been expanded to more than 20,000 square feet. Previously, they owned and managed LeWana Dairy Farm, where they milked cows and raised corn and hay.