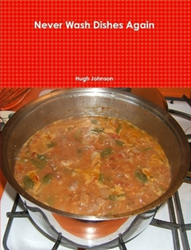 "There are no bad cooks, only bad recipes, and every recipe in 'Never Wash Dishes Again' is an outstanding recipe," Johnson says.
Salt Lake City (PRWEB) April 26, 2014
With 20 years' experience working in all facets of the restaurant and food-service industry under his belt, author Hugh Johnson presents his new, creatively named and cleverly organized recipe book, "Never Wash Dishes Again" (published by Lulu).
"People who don't know how to cook, will always work for food. If you can master the recipes in this book you will always be able to find someone else to do the dishes - hence the book's title," Johnson says.
"Never Wash Dishes Again" offers diverse recipes – from international dishes to down-home comfort foods - each refreshed with Johnson's own spice blends, ingredient picks and cooking techniques. Each recipe features an easy-to-follow format, a short ingredient list, simple prep techniques and easy cooking methods for flavorful, time-saving meals.
The book is broken into chapters so readers do not have to find the original recipe they used if they're interested in recreating the spice rub, sauce or marinade from a particular dish. All spice blends from each dish in the book are also listed in the Spice Blend chapter, the same goes for marinades and sauces. Johnson has also included recipes for homemade salad dressings, kitchen liqueurs, a recipe for what he calls the perfect Margarita and over 100 recipes for Jell-O shooters and party cocktails.
"There are no bad cooks, only bad recipes, and every recipe in 'Never Wash Dishes Again' is an outstanding recipe," Johnson says. "It takes no more time or effort to make delicious food than to make mediocre or inedible food. These truly unique dishes are not found together in any other cookbook. The creative kitchen helper you need for fast, flavorful and truly memorable meals."
"Never Wash Dishes Again"
By Hugh Johnson
Softcover | 8.5 x 11 in | 181 pages | ISBN 978-1-304-11693-2
Available at Amazon
About the Author
Hugh Johnson developed a passion for food at a young age, learning cooking basics from his mother and grandmother. He has bachelor's degrees from the University of Utah and Columbia College. He worked for 20 years in the restaurant industry. He practices organic home gardening and has brewed beer, wine and manufactured various liqueurs at home.
Launched in 2002, Lulu pioneered the self-publishing industry and paved the way for people around the world to publish books and bring them to market, while allowing authors to retain full control of their work. Operating a global network, Lulu provides worldwide distribution so that authors can reach readers just about anywhere via print, e-readers and tablet devices. For more information, visit http://www.lulu.com or call (888)-265-2129.