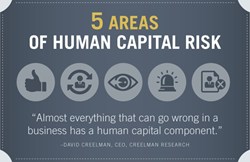 Often managers are occupied with more tangible work and miss putting in place policies or processes that can help reduce these risks.
Purcellville, VA (PRWEB) August 08, 2013
Lowers Risk Group, a leading enterprise risk management (ERM) consulting firm, has released a new infographic, titled 5 Areas of Human Capital Risk. The purpose of the infographic is to help organizations identify and understand key areas of risk related to people in the workplace.
Human capital risk, defined as the gap between the goals of the organization and the skills of its workforce, stems from many sources. The Lowers Risk Group infographic highlights five key areas that deserve attention of risk managers and organizational leaders. For each area, the infographic presents a definition and tips to help organizations better manage their human capital risks.
Organizations depend on small or large groups of individuals—each related to one another through a division of labor, with each person's work intended to contribute to achieving the organization's overall goals. In this complex environment, people will invariably introduce risks of various kinds, intentionally or not. These risks have the potential to impose significant losses on brand, reputation, morale, and revenue.
The infographic describes 5 types of human capital risk, including complacency, turnover, occupational fraud, catastrophic workplace events, and negligent hiring or retention. Each of these risks can be managed through deliberate measurement, policy and actions, and the visual presentation summarizes the key points of this information. Managers will take away guidelines for concrete steps toward mitigating human capital risks.
"We find human capital risks in every organization we work with," says Mark Lowers, CEO of Lowers Risk Group, "But often, managers are occupied with more tangible work and miss putting in place policies or processes that can help reduce these risks."
Human capital risks can be an integral part of an enterprise risk management plan. Like other kinds of risks, they can be addressed on a preventative basis to help reduce their impact.
The new infographic is available at http://bit.ly/risk-info. Journalists and bloggers are encouraged to use the embed code to share the infographic with their readers.
About Lowers Risk Group
Lowers Risk Group serves nearly 1,000 leading organizations worldwide with widely recognized human capital and enterprise risk management expertise. Clients have direct access to experienced consultants and industry leaders specializing in high-risk, highly regulated industries. The company has an international presence in North America, Europe, and South and Central America. Lowers Risk Group provides a strategic, focused approach to risk assessment, compliance, and mitigation to help drive organizations forward with confidence. Learn more at lowersriskgroup.com.