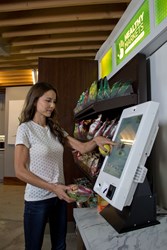 The new micro-market will offer teammates fresh, healthy food choices that are convenient and affordable. It's like having a healthy convenience store in our break room.
Los Angeles, CA (PRWEB) November 27, 2013
HUMAN ("Helping Unite Mankind and Nutrition"), one of America's fastest growing franchisors and the leading convenient distributor of healthy foods, has launched its first three healthy micro markets in the Los Angeles area with others to soon follow in Honolulu, Houston, and Northern California. Welcomed by top corporations as a new employee amenity that can work in harmony with company wellness programs, HUMAN Healthy Markets are replacing traditional vending machines in offices that are demanding more robust on-site food service options for employees.
HUMAN's Healthy Markets are self-serve natural foods stores integrated seamlessly into an office space. Free to offices that meet minimum qualifications, micro-markets are a great option for workplaces that want to provide a breadth of healthful snack and meal options, improve employee health, boost morale, increase productivity, and slash health care costs. According to a 2010 Kaiser/HRET survey, wellness programs are increasing substantially year over year with a 34% increase from 2009 to 2010 amongst employers with 200 or more employees.
In the Los Angeles, Calif. area, HUMAN has launched its Healthy Markets at three industry trailblazers: Ogilvy Public Relations, a top-rated public relations firm in Culver City; Oakwood Worldwide, a global leader in corporate housing and serviced apartments; and at HUMAN's own award-winning, 30+ employee headquarters.
Ogilvy's wellness committee was at the helm of its switch from junk-food vending machines to a Healthy Market as it recognized the need for enhanced offerings for its employees that often work extended hours in efforts to meet tight deadlines. Ogilvy's hassle-free market allows employees to use loyalty cards, credit cards, and – once they have an account set-up – even their fingerprints to purchase an array of healthful snacks and beverages, including KIND bars, Larabar Fruit & Nut bars, Steaz teas, and Kombucha beverages.
In addition to the Los Angeles locations, HUMAN Healthy Markets will soon make their debut in Honolulu, Hawaii and other locations across the country. HUMAN franchisee Milad Estivan has signed a contract to launch a healthy micro-market at America Savings Bank ("ASB") in December of this year. ASB has been proactive with its corporate wellness program by launching its "LifeBalance Wellness Program," which offers tools, programs and incentives for its 1200 employees to live healthful lives.
"Our teammates' health and well-being matter to us. Offering onsite, convenient, healthy food options fits in with our LifeBalance wellness program that is designed to help our team members live their best life," said Beth Whitehead, Chief Administrative Officer and Executive Vice President of ASB. "The new micro-market will offer teammates fresh, healthy food choices that are convenient and affordable. It's like having a healthy convenience store in our break room. Our facility at Mililani Tech Park is somewhat isolated away from town and restaurants and stores, so we think the micro-market is a great option."
Prior to having HUMAN's healthy market, ASB offered its employees standard soft drink machines and regular vending machines without credit card capabilities.
Regarding the team's reception of the new healthy market, Whitehead said, "Our team has proven to be very open to trying new things. They have embraced our LifeBalance wellness program, and we think they will embrace this too. We anticipate a lot of feedback and suggestions, of course, but that is what makes a great relationship. Our teammates will have a voice about what items to stock in the healthy market."
For more information on having a HUMAN Healthy Market installed at your location, please click the "Contact Us" menu at HealthyMarkets.com or call 310.845.7745. For information on becoming a HUMAN franchisee, please visit HealthyVendingTeam.com.
About HUMAN
HUMAN ("Helping Unite Mankind And Nutrition") is America's leading convenient distributor of healthy foods whose mission is to create "Easy Nutrition Everywhere." Via healthy vending machines, healthy micro-markets, and other innovative automated retail technologies, HUMAN delivers on its vision to make healthy food more convenient than junk food. HUMAN can be found in over 2,000 schools, offices, hospitals, health clubs, YMCAs, and other locations in over 40 U.S. states, Canada, and Puerto Rico. The "better-for-you" platform delivers a wide variety of healthy snacks, fresh produce, coffees, and locally-sourced foods. In addition to providing healthful food options, HUMAN healthy storefronts provide nutrition education via high-definition LCD screens that display streaming videos and other digital content.
HUMAN has been ranked by Inc. Magazine as the #168th Fastest Growing Private Company in America, by Entrepreneur as one of its "Top 100 Brilliant Companies" and by Forbes as one of "America's Most Promising Companies" (two years in a row).
HUMAN donates 10% of profits to charities that fight the causes of childhood obesity and malnutrition, with a predominate recipient of those funds being HUMAN's non-profit arm, HUMAN Everywhere.