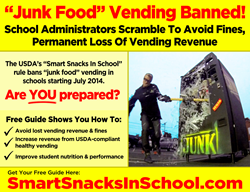 Identifying Human Healthy Vending as an official Service Partner will help strengthen state school board associations and support the work NSBA is doing to ensure that each child is prepared to reach his or her potential in life
Los Angeles, CA (PRWEB) February 28, 2014
HUMAN("Helping Unite Mankind and Nutrition"), America's fastest growing healthy vending franchise and the leading distributor of convenient healthy foods, announces that it is now an Official Service Partner of the National School Boards Association (NSBA). NSBA is a not-for-profit organization representing state associations of school boards and their more than 90,000 local school board members throughout the U.S.
As an Official Service Partner of the NSBA, HUMAN will incorporate select NSBA messaging into its healthy vending machines' LCD digital monitors and will educate member state association executive directors via nutrition newsletters hosted on NSBA's state association section on their website.
"The National School Boards Association understands the important collaborative role public-private partnerships play in advancing student achievement," said NSBA Executive Director Thomas J. Gentzel. "Identifying Human Healthy Vending as an official Service Partner will help strengthen state school board associations and support the work NSBA is doing to ensure that each child is prepared to reach his or her potential in life, contribute to society, and achieve a standard of living that is the American dream."
With the USDA's Smart Snacks In School rules going into effect on July 1st of this year, schools across the nation are turning to healthy vending companies to provide education on how to comply without losing vending revenues or being fined.
"We are grateful to be an official service partner of the NSBA and to be able to educate their members on the competitive food issues that affect their students' health, their employees' job functions and, ultimately, their bottom line," said Sean Kelly, CEO and Co-Founder of HUMAN.
HUMAN will be exhibiting at the NSBA's 74th Annual Conference in New Orleans, La., April 5-7 and Sean Kelly will be leading two "Study Hall" sessions covering what school officials need to know about the Smart Snacks In School rules in advance of their implementation date of July 1, 2014. Find HUMAN at booth #1807.
For information on having a HUMAN healthy vending machine or micro market at your location, please click here. For information on becoming a HUMAN franchisee, please click here.
About HUMAN
HUMAN ("Helping Unite Mankind And Nutrition") is America's leading distributor of convenient healthy foods whose mission is to create "Easy Nutrition Everywhere." Via healthy vending machines, healthy micro-markets, direct delivery services, and other innovative automated retail technologies, HUMAN delivers on its vision to make healthy food more convenient than junk food. HUMAN can be found in over 2,000 schools, offices, hospitals, health clubs, YMCAs, and other locations in over 40 U.S. states, Canada, and Puerto Rico. The "better-for-you" platform delivers a wide variety of healthy snacks, fresh produce, coffees, and locally-sourced foods. In addition to providing healthful food options, HUMAN healthy storefronts provide nutrition education via high-definition LCD screens that display streaming videos and other digital content.
HUMAN has been ranked by Inc. Magazine as the #168th Fastest Growing Private Company in America, by Entrepreneur Magazine as the #1 Vending Franchise in the 2014 Franchise 500, and by Forbes as one of "America's Most Promising Companies" (two years in a row).
HUMAN donates 10% of profits to charities that fight the causes of childhood obesity and malnutrition, with a predominate recipient of those funds being HUMAN's non-profit arm, HUMAN Everywhere.
About the National School Boards Association
Founded in 1940, the National School Boards Association (NSBA) is a not-for-profit organization representing state associations of school boards and their more than 90,000 local school board members throughout the U.S. Working with and through our state associations, NSBA advocates for equity and excellence in public education through school board leadership. http://www.nsba.org