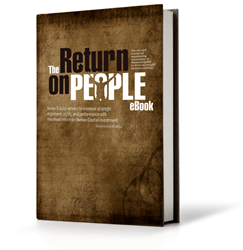 A lower ROP maturity level ... can be a symptom of serious underlying business alignment and accountability problems.
Grand Haven, MI (PRWEB) August 27, 2013
Is your organization earning a reasonable return on investments in its people? Most senior executives of large, global organizations cannot answer that question with any certainty, and that has critical implications for managing business risk and performance. This is the claim made by Chris Frederick Willis, CEO of performance consulting firm Media 1, in her new "Return On People eBook."
Earlier this year, Media 1 identified five distinct Return On People Maturity Levels to gauge an organization's ability to capitalize on strategic returns on investment in its workforce. The firm also developed an assessment to identify an organization's current level of maturity by examining its organizational architecture and behaviors across functions and business units. The Return On People eBook introduces the Five ROP Maturity Levels and outlines actions executives can take to position for higher organizational maturity.
The eBook claims organizations with the highest level of ROP maturity have high visibility to the current readiness of their workforce to meet strategic goals and are able to use predictive human capital analytics to take appropriate and timely actions to improve overall business performance. "Organizations with a higher ROP maturity are more strategically aligned," says Willis. "This in turn means that they can make more strategic decisions and respond with greater agility in a volatile market."
Conversely, according to Willis, a lower ROP maturity level indicates an inability to accurately measure strategic human capital information, which can be a symptom of serious underlying business alignment and accountability problems.
Willis says that measuring Return On People is more difficult than most executives understand. This is because business financial reporting has evolved from industrial systems that focused on production and ownership of tangible assets. Workforce costs such as payroll, that directly impact traditional accounting reports, regularly appear as liabilities on the corporate balance sheet. However, the value of an organization's people, or human capital, is more difficult to factor into strategic business decisions.
"For decades, pretty much anything having to do with measuring people was relegated to the HR department," says Willis. "As HR software evolved, employee data was held captive in disparate systems, all measuring different aspects of the worker's tenure with the company. And, in most companies, HR information is still largely segregated from Finance."
Research by Media 1 shows that even in Fortune 100 companies with sophisticated HR and financial systems, human capital measurements are often inconsistent. "For example, the costs of outsourced labor or contingent workers are often not calculated or reported the same way across business units," says Harrison Withers, Media 1 VP of Operations, who contributed to the Return On People eBook.
Withers says that such inconsistent human capital reporting is widespread in large organizations that have grown through merger or acquisition and failed to fully integrate systems and processes. "What we see over and over is that people data is aggregated by each business unit, then rolled up to the executive suite in large, aggregate numbers," he attests. "Those calculations may not be apples to apples, but they are relied on to make crucial business decisions. And that creates a huge potential for unnecessary risk."
The Return On People eBook offers seven actions business leaders can take to begin improving their ROP maturity, along with a case study and research behind the Return On People Maturity Model. Media 1 is offering the eBook for free download at MaxROP.com.
About the Author, Chris Willis:
Chris is the visionary entrepreneur behind Media 1, driving measurable performance improvement for some of the world's most enviable brands since 1993. Chris played an instrumental role in the development of Return On People. She is a regular industry conference presenter, has authored articles for the eLearning Guild and Training Magazine, and been published in Dr. Michael Allen's eLearning Annual. Her most recent title is The Return On People eBook.
About Media 1:
Media 1 are experts in Return On People, a powerful organizational performance methodology grounded in Human Capital Analytics. We apply ROP to increase long-term profit and fuel an empowered, agile, and sustainable work environment for all contributors. Our clients include senior executives from companies who have grown through merger and acquisition and emerging organizations seeking to implement leading people practices. Return On People will help you create an accountable measurement culture for a greater return on your investment in people.