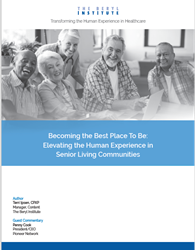 NASHVILLE, Tenn. (PRWEB) August 20, 2021
In collaboration with Pioneer Network, The Beryl Institute examines human experience in senior living communities through the eyes of those who live and work there in its new white paper, Becoming the Best Place to Be: Elevating the Human Experience in Senior Living Communities. The paper presents opportunities and perspectives to encourage those overseeing experience in senior living communities to listen, understand and act in ways that respect residents as human beings and as individuals. "Becoming the Best Place to Be" follows a narrative that journeys through the eight strategic lenses of The Beryl Institute's Experience Framework to help set the foundation of what is truly important to residents through the current environment of a global pandemic and beyond.
The white paper reflects the voices of 12 residents from four senior living environments across the U.S. including independent living, assisted living and skilled nursing communities. Additionally, the perspectives of 33 professionals in the field share insights across a diverse spectrum of expertise.
This paper provides a framework for strategic focus areas for senior living leaders, highlights successes and opportunities for improvement and provides a framework in which to organize knowledge, resources and solutions. Key considerations include:

Elevating the human experience allows for residents to feel safe, well cared for and valued as human beings
Focusing on resident experience ensures residents are afforded the opportunity and empowered to direct their own lives
Creating a culture of aging where choice is respected and honored supports positive experiences for residents, families and care partners now and into the future
"Every resident's voice deserves to be heard and their choices honored," said Penny Cook, President and CEO, Pioneer Network. "It is my hope that this paper moves forward our efforts to create a culture of aging where we all are respected and empowered to live our lives how and where we choose, no matter our age or abilities."
To download the white paper, click here.
###
About The Beryl Institute:
The Beryl Institute is a global community of professionals and experience champions committed to transforming the human experience in healthcare. As a pioneer and leader of the experience movement and patient experience profession for more than a decade, the Institute offers unparalleled access to unbiased research and proven practices, networking and professional development opportunities and a safe, neutral space to exchange ideas and learn from others.
We define the patient experience as the sum of all interactions, shaped by an organization's culture, that influence patient perceptions across the continuum of care. We believe human experience is grounded in the experiences of patients & families, members of the healthcare workforce and the communities they serve.
About Pioneer Network:
Pioneer Network supports models where elders live in open, diverse, caring communities. In-depth change in systems requires change in governmental policy and regulation; change in the individual's and society's attitudes toward aging and elders; change in elders' attitudes towards themselves and their aging; and change in the attitudes and behavior of caregivers toward those for whom they care. We refer to this work as culture change. Our aim is nothing less than transforming the culture of aging in America. Visit http://www.pioneernetwork.net for more information.