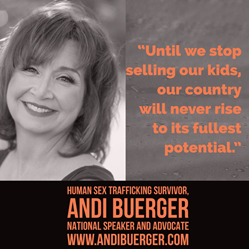 "Without a wall or other solid display of protection for our nation's people, those who are legally in the U.S., we essentially give carte blanche to any depraved human being to use U.S. soil for their dirty work."
WASHINGTON (PRWEB) February 22, 2019
Human trafficking survivor, Andi Buerger, an international speaker is sitting down with leaders in Washington, D.C. next week, February 27-March 2, 2019 during the annual Conservative Political Action Conference at the Gaylord Hotel, National Harbor to discuss the non-partisan human issue of human trafficking. Buerger stated, "I respect and applaud President Trump for not only signing paperwork asserting anti-trafficking measures, but his consistent and passionate course of action to protect those most in need of protection: innocent children and teens who are targeted. abducted, transported for deviant purposes, and even sold for profit."
Buerger continued..."I was never protected. As a survivor of human sex trafficking I see the need and results of a system including but not limited to a protective barrier that keeps additional predators from using American soil as their safety net for human trafficking. Those fighting the current Administration and the President's call for a barrier tool on our borders are in essence advocating for more illegal entries of sex traffickers, rapists, child abductors - and worse.
Criminals have the upper hand because they can abduct children freely, create false documents, and intimidate victims into non-disclosure. When we allow our children to be sold, to be used as a commodity, to be violated, persecuted, neglected, discarded, and preyed upon by criminal influences, we deteriorate as a civilized community because there is nothing civilized about using the weak, the innocent, the vulnerable for selfish gain."
She was violated at the age of six months to seventeen years old, by all immediate family members and assorted others during that period. Today, the term is trafficking, but back then there was no place to run for help or safety. Her desire for justice led to law school, but she realized justice is less about law and more about action. In 2008, she co-founded Beulah's Place to help at-risk homeless teens who have been victimized and discarded to die on the streets. Her primary focus and education tool is to engage these street teens and the daily work with law enforcement and the District Attorney's offices to better assess and serve vulnerable youth.
Buerger concluded..."The U.S. cannot currently eliminate the human trafficking trade on its own soil, let alone deter those who come across our borders to conduct their illicit behavior. Since open borders are not working to solve this issue but are instead creating a worse situation especially for the victims involved, using a barrier tool along with other measures is the next critical step. Without a wall or other solid display of protection for our nation's people, those who are legally in the U.S., we essentially give carte blanche to any depraved human being to do whatever he or she chooses with children who don't belong to that person and will most likely not survive once their usefulness has ended."
Andi Buerger is speaking nationwide to universities, women's clubs, government agencies, and members of Congress. Her message will also be featured nationwide for winter 2019 and spring 2019. To schedule booking events with Andi Buerger, please email hello(at)edengordonmedia.com.
About Andi Buerger:
Andi Buerger is an international speaker, corporate trainer, educator (junior/senior high; college), business owner, writer, media talent, public relations and marketing consultant, nonprofit executive, and community ambassador. Born in Inglewood, CA, Andi graduated Marywood High School in 1980. She then received her bachelor's degree in Business Administration with minors in communications and economics from Loyola Marymount University in 1983. In 1988, she completed her law degree from Western State University College of Law.
Extraordinary opportunities presented themselves to Andi early on because of her passion for serving others and her expert skill sets in communication, public relations, network marketing, business, and administration. From a finalist in the Miss America Teenage Pageant Orange County to the Special Task Force Team Vice Presidential Visit and grassroots congressional campaign manager (Orange County), Andi has had a variety of career paths spanning forty plus years. This includes being an audio voice talent, broadcast personality, actress (briefly!), and corporate video talent.
Andi's work ethic earned favor early on with CEO's of such Fortune 500 companies as ABC Worldwide Video Distribution, Multnomah Publishers (where she was a Senior Publicist for authors such as Thomas Kinkade, Russell Cronkhite, Randy Alcorn, and Kim Meeder), New Vision International, Disneyland Resort and Hotel (Anaheim, CA), Eagle Crest Resorts/JELD-WEN, and more. Andi has engaged in community leadership to promote better living for those less fortunate and fundraising for organizations helping individuals with specific needs. These entities include Habitat for Humanity (Board Member), United Way, Childhelp USA, Boys and Girls Clubs, Kiwanis, Rotary, Lions Club, Soroptimists International, Stonecroft Ministries International, Special Olympics, and multiple Chamber of Commerce (Board Member).
Currently, the Executive Director and Co-Founder of Beulah's Place, a 501(c)3 nonprofit organization providing temporary shelter services to at-risk homeless teen boys and girls, Andi is in the process of locating a permanent facility in which to rescue and house more at-risk teens. She and her husband, Ed, have been married for 19 years. They live in beautiful Central Oregon. Andi and her husband are involved in church activities and enjoy traveling to Andi's speaking engagements and other places of interest as often as possible.