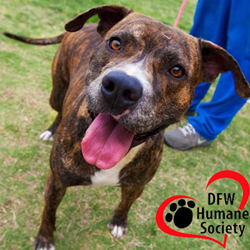 We hope everyone in our community can agree that animals should not be abused or neglected, and that, like people, all animals deserve protection, a happy home, and a family that loves them
Irving, TX (PRWEB) September 21, 2016
Norwood Insurance Group, a Dallas County insurance and financial planning firm with offices that serve communities throughout eastern Texas, is joining forces with the DFW Humane Society in a charitable initiative to rescue animals in the region from abuse and abandonment.
The Humane Society is one of the most recognized nonprofit organizations in the country, and is committed to caring for abandoned animals and advocating against euthanizing shelters. The DFW chapter of the Humane Society serves the Dallas / Fort Worth region, and cares for between 80-100 animals at a time. The DFW Humane Society does not receive federal or state funding and relies solely on private donations to fund operations.
"We hope everyone in our community can agree that animals should not be abused or neglected, and that, like people, all animals deserve protection, a happy home, and a family that loves them," says Wes Norwood, owner and acting manager of Norwood Insurance Group.
Norwood and his team are reaching out to nearby families, business owners, community leaders, and friends over social media and email to help organize support for the DFW Humane Society charity event. The Norwood Insurance team is also drafting a feature article about the charity drive for publication in a soon to be released edition of the firm's webzine "Our Hometown": http://www.norwoodinsurancegroup.com/Our-Hometown-Magazine_42.
Several other notable charitable causes and nonprofit organizations operating in Texas have recently received assistance from Norwood Insurance Group over the last few months. As participants in the nationwide "Agents of Change" charity involvement program, the Norwood team plans to continue assisting regional charities at the rate of one every other month.
Anyone who would like to join the Norwood Insurance Group for the DFW Humane Society charity event is invited to take action and assist the cause directly by visiting the following page and making a personal commitment to help: http://www.norwoodinsurancegroup.com/Saving-Irving's-Furry-Friends_20_community_cause. More information on previously assisted charitable organizations can be found on the agency's Community Causes roster: http://www.norwoodinsurancegroup.com/community-cause.
About Norwood Insurance Group
With offices in Irving, TX, agency owner Wes Norwood knows many local families, and his knowledge and understanding of the people in his community help him provide an outstanding level of service. Wes and his team look forward to helping families protect the things that are important to them - family, home, car and more. Norwood Insurance Group can also help clients prepare a long-term strategy to achieve their financial goals. To contact a courteous and knowledgeable expert at the Norwood Insurance Group, please visit http://www.norwoodinsurancegroup.com/ or call 972-756-0065.