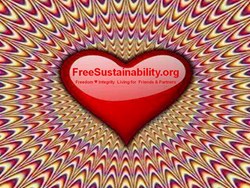 One Can Send One Thousand to Flight, but Two can Send Ten Thousand to Flight... The Bible
Los Angeles, CA (PRWEB) December 31, 2013
http://FreeSustainability.org is recruiting sales, marketing, and advertising pros to build a humanitarian support team dedicated to strengthening small businesses. Although it is located in Los Angeles, California, participation is accessible online as well. The marketing team will use their skills to help each other succeed with their business and dreams at no cost. The concept for this team is rooted in the life changing power of giving and helping others, like the movie "Pay It Forward". The team philosophy is a reminder to give and it shall be given unto you. In addition to helping other team members win, each participant will also reap huge benefits. This is not MLM or multilevel and recruitment is not a requirement.
1) If interested, after reviewing the website, the first step is for sales, marketing, and advertising people to call and ask for Reggie PinHi at (310) 598-0316 or emailing members(at)FreeSustainability(dot)org/.
2) The second step is the "contribution factor"; if accepted, each participant will contribute his/her specific sales or marketing skills during a weekly time segment with the team to bring dreams and visions to fruition.
3) The third step is the "focus factor"; the participant will choose their own dream and/or business to develop, or if desired, participants will receive free businesses from http://FreeSustainability.org as listed below.
4) The fourth step is the "rewards & benefits factor"; participants will receive 1,000 shares ($25,000 estimated value on profitability basis) as a sign on bonus to form part of the humanitarian support team. Participants' contributions will be equally matched for their own business by the marketing team's expertise according to the comprehensive marketing tools listed below.
Click here to see the entire list of program benefits-- incentives, comprehensive marketing tools, advanced sales training, and advertising to bring dreams and business to fruition.
New visitors are welcome to click here to read the life and death true story about how Free Sustainability first got started, about the "Tree of Life" visitation given unto Joseph the founder of Free Sustainability, and why people united after the 2008 crash to develop free humanitarian businesses used to assist people in self funding their own affordable homes and pay it forward communities.
Media contact:
Reggie PinHi at (310) 598-0316 or members@FreeSustainability.org
Also!
Career Opportunity!
70% Commissions
+
Equity Profit Sharing Program
Click & Sign Up for Interview
*Grant Writers
*Internet Reps
*Telecom Reps
*Advertising Reps
*Event Coordinators
*Business Consultants
*Solar Representatives
*Video Production Ad Agents
*Internet & Social Media People