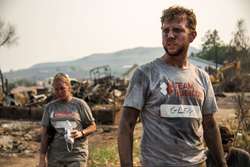 Even in the worst crises, there are those who put others first and resolve to act, despite the misgivings of some or the natural instinct to avoid risk.
Los Angeles, Calif. (PRWEB) August 18, 2014
Team Rubicon, a veteran-led disaster relief organization, joins with aid agencies across the world to enlist awareness of World Humanitarian Day, Tuesday Aug. 19.
World Humanitarian Day commemorates those who have lost their lives in humanitarian service and celebrates the spirit that inspires humanitarian work around the world.
"Even in the worst crises, there are those who put others first and resolve to act, despite the misgivings of some or the natural instinct to avoid risk," said Jake Wood, cofounder and CEO of Team Rubicon. "World Humanitarian Day is a great occasion to reexamine what we all can do to make a difference—at home or abroad."
One way to do that, according to Wood, is to join or support Team Rubicon. What sets Team Rubicon apart from other relief groups is that it combines the skills and experiences of military veterans with those of first responders.
"It's easy to think of vets as warriors, but they are also leaders capable of working in small teams, and scaling up as needed to bring order to chaotic environments," said Wood, who served as a Marine sniper in Iraq. "We have medics, logistics experts, even tech geeks—and they are all driven by a sense of purpose greater than themselves."
Domestically, the nonprofit's services include debris removal, volunteer management, damage assessment and expedient home repair. Team Rubicon has also taken on incident management for overwhelmed communities lacking local emergency managers.
Internationally, Team Rubicon's volunteers have performed medical relief and training; water and sanitary health operations; and refugee camp management.
Team Rubicon was founded in the wake of the 2010 Haiti Earthquake by Wood and fellow Marine William McNulty. It has grown from eight to 17,000 members with more than 70 operations under its belt, including Haiti, Superstorm Sandy, and Typhoon Haiyan in the Philippines.
Currently, Team Rubicon is helping Hawaii cleanup from Hurricane Iselle, and Dearborn, Mich., muck out from flooding. Last week, the organization wrapped up its response to historic wildfires in Washington.
Becoming a volunteer is as simple as visiting Team Rubicon online. Volunteers will be assigned to one of ten regions, based on where they reside. From there, volunteers are asked to take a series of free, online courses at their own pace which introduce members to incident command and expectations.
Further hands-on training in skills like wilderness first aid, chainsaw and heavy equipment operations is offered at the regional level, throughout the year.
In addition to disasters, volunteers stay engaged throughout the year through community service projects and social events that build camaraderie, promote fitness, and help bridge the civilian/military divide.
Team Rubicon does not charge for its services and receives no government funding. It relies on donations from corporations and the public to perform its work. To join or learn more, visit http://www.teamrubiconusa.org.
About Team Rubicon: Team Rubicon (TR) unites the skills and experience of military veterans with first responders to rapidly deploy emergency response teams. TR offers veterans a chance to continue their service by helping and empowering those afflicted by disasters, and also themselves. For more about Team Rubicon, visit http://www.teamrubiconusa.org.