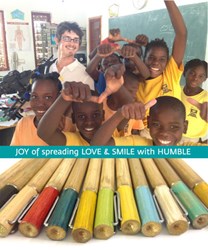 The beauty of the Humble Pen is that it speaks to the connection between each of us and the importance of celebrating the privilege of the written word
Beverly Hills, CA (PRWEB) December 03, 2013
Humble Pen announces the launch of its Indiegogo campaign to raise 48,000 dollars to start production of the Humble Pen, fund marketing strategies, and prepare the pen for wide distribution. Made of eco-friendly and sustainable bamboo, each beautiful Humble Pen holds a greater vision; 10 dollars from each pen sold goes to support the education of disadvantaged children through Humble Pen's partner programs with children's schools in India, Cambodia and Haiti. Humble Pen aims to be one of the top Indiegogo projects by the campaign's end on January 10, 2014.
Created with the vision to "reignite your love of writing," Humble Pen allows writers to reconnect with the joys of writing while helping provide an education for a child who would not otherwise have the opportunity to learn to write. Humble Pen has partnered with three outstanding children's schools to support education in the impoverished nations of Haiti, Cambodia and India. Additionally, each Humble Pen is crafted by a group of artisans in a cooperative, providing financial stability and income to families and individuals.
The Humble Pen also provides a way for those who want to donate to Haiti or support educational programs in disadvantaged nations to give in a unique and creative way. Projects like the Humble Pen campaign also provide an effective option for those who want to know how to raise money for important causes while also providing employment opportunities, using sustainable materials, and creating a product that is meaningful on many levels.
"The beauty of the Humble Pen is that it speaks to the connection between each of us and the importance of celebrating the privilege of the written word," says Humble Pen founder Mihir Patel. "In a time when electronic communication has overtaken traditional pen and paper, some children still never have the opportunity to learn to write and never know what it is to hold a pen. In reawakening our own love of writing, we can nurture and support this in a child, and that is a very special gift."
Hoping to become one of the most popular Indiegogo projects, The Humble Pen Indiegogo campaign runs until January 10, 2014. Some of the perks for supporting the campaign include a Humble Pen and five pieces of artist-inspired stationary for 48 dollars; a Humble Pen, five pieces of stationary, and thank you letter from a child for just 118 dollars; and the ultimate perk, four Humble Pens, four hoodies, four t-shirts, and a Giving Trip to India, Cambodia or Haiti to interact with the children and work with a team at the giving site for a donation of 4,000 dollars.
About Humble Pen:
Artisans using sustainable bamboo handcraft each Humble Pen. For every pen purchased, a portion of the proceeds go towards educating a child in Haiti, India or Cambodia at one of Humble Pen's partnering schools. With a mission to "reignite your love of writing," the Humble Pen allows writers to fall in love with writing again while providing the opportunity for a child to discover these joys as well. For more information, visit http://www.indiegogo.com/projects/humble-pen-reigniting-your-love-of-writing.