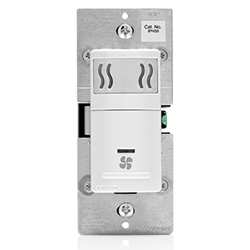 The sensor also helps reduce energy usage by automatically operating the fan only when needed to control excess humidity.
Issaquah, WA (PRWEB) January 20, 2014
TheHardwareCity.com is continually enhancing their online store with new home improvement merchandise. The company is known for exhibiting quality products that match the industry's latest standards. Now available on their online catalog is the Leviton Humidity Sensor and Fan Control. Offering home owners a solution for controlling humidity in damp rooms, the sensor is user-friendly and can be installed virtually anywhere.
The Leviton Humidity Sensor and Fan Control can be installed to control ventilation fans or fan/light combinations. Installation is easy, considering that the sensor can replace an existing single pole switch and only a neutral wire is required for electrical connection. Additionally, it is just the right size to fit within a standard wall box, making it an easy upgrade to any bathroom, basement,
spa, or laundry room.
Through the use of digital sensing technology and a microprocessor, the sensor monitors humidity levels. The Leviton Humidity Sensor and Fan Control allows the user to adjust humidity levels, sensitivity, and time out settings through the easy-to-use controls. Because it has a built in sensor, it can help reduce energy by only operating the fan when humidity control is necessary. Representatives at TheHardwareCity.com are available to answer questions about this innovative product or any other product in their online catalog. Customers can reach them through live online chat or by phone.
TheHardwareCity.com also sells numerous ventilation fans and fan/light combinations. All products on the website include a descriptive photo with specifications. Ordering home improvement tools and products from the online store is a simple process. The Leviton Humidity Sensor and Fan Control can be purchased at http://www.thehardwarecity.com and delivered to any physical address. Orders are processed and shipped promptly. The company strives to offer their customers reasonable prices for quality products. Visit the website to view pricing and shipping options.
About TheHardwareCity.com:
TheHardwareCity.com was established in 2007 and since its beginning has strived to offer customers the most innovative quality home improvement products at reasonable prices. As one of the largest online hardware and tool retailers, they continue to provide top customer service. Home improvers of all types can find tools and merchandise for any project including heating, electrical, plumbing, bathroom accessories, building supplies, and more at http://www.thehardwarecity.com.