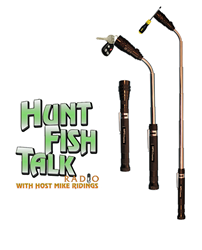 strategic advantage against the darkness
(PRWEB) October 07, 2013
Hunting season is upon us and IMPEL Tronics is proud to announce an endorsement by Hunt Fish Talk Radio of the Magnetic Flashlight. This is the time for having the proper gear on hand is critical for sensibly minded hunters. Hunters will always seek the type of gear that fits their style of activity; however safety and practicality will always be a common theme in choosing the device needed.
Upon entering or exiting a field or streamside it is critical for individuals to know someone else is around. When night time arrives it is imperative for hunters to carry a well lit flashlight when moving around to let everyone know you're in the area. It also very helpful in lighting the pathway when traveling on foot, revealing logs, branches or groundhog holes illuminating the danger ahead.
IMPEL Tronics encourage readers to listen to the endorsements given here by our friends at Hunt Fish Talk Radio. They clearly indicate the usefulness of this product for hunting in any form and the fact that it comes with 2 sets of batteries. They eagerly stress the value of having strong magnets at each end with a pocket clip for convenient stowing. They go on to reference the telescoping feature in that individuals can easily locate and retrieve metal objects that are "there for the taking" but normally hard to reach. Another critical feature mentioned is the "goose neck" section, attached to the head, allowing the light to be pointed in the proper direction. All in all the folks at Huntfishtalk.com Radio sound real pleased in promoting this 3 LED TeleMag Flashlight as a "great" product.
IMPEL Tronics, a wholesale manufacturer of high quality high lumen LED Flashlights, offers everyone a "strategic advantage against the darkness". Whether you're in search and rescue, hunting and fishing or in need of lighting in any application, IMPEL Tronics invites everyone to "Light the Way".
Listen to the audio here: http://www.youtube.com/watch?v=MDCFG9EOAcE
and visit http://www.impeltronics.com to learn more
Media Contact
Michael Pastal
717-440-1680
mpastal(at)impeltronics(dot)com