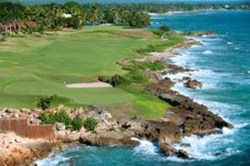 Carmel, CA (PRWEB) September 30, 2013
These gifts may not all fit under the tree, but no golfer is going to return any of these great golf treats lined up for the 2013 holiday season.
Omni La Costa Resort & Spa – Southern California's only GOLF Magazine Gold Medal resort—recently unveiled the unique "TOURAcademy Golf & Fitness" Program, combining expert golf instruction from its TOURAcademy with the fitness/wellness expertise of the award-winning Premier Fitness Camp. Designed for all levels of golfers, the weeklong program combines individualized golf lessons with PFC's proven weight-loss program. Rates begin at $3,945 per person, double occupancy, and include room, daily meals and snacks, health and fitness evaluation, all instruction, a round at one of Omni La Costa's championship courses, and much more.
The beautiful shirts in Cutter & Buck's Fall 2013 Men's CB Golf Collections cover a spectrum of colors and styles, mixing technology and comfort in the four lines. "Faceted" boasts bright sharp lines and graphic prints. "Vancouver Island" is streamlined and sporty with clean color blocking and contrasting details. Nuanced and sophisticated, "Yesler Way" blends traditional lines with deep, rich colors. And "Geared," inspired by the Pacific Northwest's bicycling culture, features chain stitching and standout striping in active hues. From $50 to $90, Cutter & Buck has it all—and something for every golfer.
Coming to New York over the holidays? Besides skating under the big tree and window shopping on Fifth Avenue, make an appointment at Golf & Body NYC, the city's only private club devoted to enhancing golf performance and getting fit. G&BNYC has Tour-tested physical trainers, fully equipped gyms, and state-of-the-art golf instruction from some of the game's best teachers. And while G&BNYC is a private club—with only the finest amenities—special arrangements for one-day guest passes or non-resident memberships can be made for out-of-town guests through top hotels, concierge services or directly through the club at 212/244-2626.
There is no more exciting destination than Casa de Campo in the Dominican Republic, recently named one of the "Top 25 Golf Resorts in the World" by LINKS Magazine. And when the weather up north turns cold, Casa de Campo turns out a wide choice of packages with accommodations in hotel rooms or villas, meals in a choice of outstanding restaurants, and 90 holes of Pete Dye-designed golf including the world-famous "Teeth of the Dog." Whether considering a weekend getaway or a longer lounge in the lap of luxury, Casa de Campo is warm and welcoming. There are also prize-packed golf tournaments all season for players at any skill level.
Whether winter golf where you live is played indoors or out, it's the perfect time to help the golfers on your gift list take their games to the next level at a local GolfTEC Improvement Center. The more than 180 centers around the country offer special holiday packages, each beginning with a Swing Evaluation conducted by one of GolfTEC's Certified Personal Coaches and using the company's proprietary technology that includes motion measurement and video analysis. Add one 30-minute lesson and one practice session in a computerized indoor hitting bay for $199; three lessons and three practice sessions for $299. There are also seasonal discounts on individualized lesson plans and series.
Looking to escape Christmas crowds and the stress of the holiday season? Make Royal Isabela—the multi-million-dollar golf community and club at the northwest corner of Puerto Rico—tops on the list for a holiday hideaway. Its Golf Links has been hailed as one of the best new courses of the century, sprawling across natural sand dunes and craggy cliffs that soar 300 feet above the Caribbean Sea. Only 20 elegant, artistically designed "casitas," each with expansive indoor and outdoor space, private pool, ocean views, guarantee privacy and solitude. Close proximity to the golf course as well as excellent regional dining, lounges, tennis, and yoga, round out the offerings. Luxurious casitas begin at $1,150 per night and include breakfast for two. 
While most golf publications toss off quick tips and descriptions of courses real people can't play, LINKS Magazine offers a fresh and exciting alternative. Covering "The Best of Golf," LINKS speaks to golfers who share a passion for what makes the game great: the best courses and communities, the latest equipment, the most interesting personalities, and the finest writing. Subscriptions at $12 include five print issues a year (spring, summer, fall, and winter), plus unlimited access through iPad, Android, and Kindle Fire apps; a website dedicated to golf real estate; and the new "HotLINKS" digital editions. Readers might not add 10 yards to their drives, but love and appreciation for golf will grow with every issue.
Turning Stone Resort Casino, the Northeast's premier golf destination, has the "inside track" to helping golfers with game improvement, while keeping in game shape all winter. Several programs are available at its expansive Golf Training Center in Central New York. Choose from the Golf Dome Multi Play Pass (30-minute sessions, buy 8 get 2 free, $80); Golf Dome Membership (unlimited use of range and putting area, on weekdays Nov. 1 2013, to March 31, 2014, $300); Simulator League (10 weeks, starting in January 2014, all rounds played on a Full Swing Golf Simulator, prizes, skins games, skill contests, low gross, low net, $125).
# # #