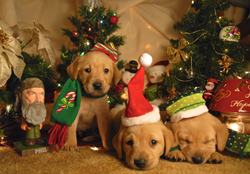 "What counts is not necessarily the size of the dog in the fight - it's the size of the fight in the dog." Dwight D. Eisenhower
Houston, Texas (PRWEB) November 18, 2014
Hunters Creek Retrievers is proud to salute the Lone Survivor Foundation, offering this once in a lifetime opportunity to support America's military heroes. BID NOW and brighten your Holiday celebration with a Hunters Creek Retrievers Championship AKC Labrador Puppy.
This adorable Yellow Lab Pup is now receiving bids in the online silent auction with a winner to be announced on Saturday, November 22, 2014 during the LSF Gala in Houston, Texas. Join us to honor many of America's heroes, including featured guest speaker, retired U.S. Navy SEAL and author of "Lone Survivor", Marcus Luttrell.
"HuntersCreek Lone Survivor Texas Bayou RedWing Scout", his full AKC registered name, is already retrieving and delivering to hand; living up to an esteemed heritage, with over 50 Championships in his 6 generation pedigree including: (FC) Field Champions, (AFC) Amateur Field Champions, (CNFC) Canadian National Field Champions, and (CNAFC) Canadian National Amateur Field Champions and his stud father, Bayou Boomer, 5X (GRHRCH) Grand Hunting Retriever Champion, (MH) Master Hunter, (QAA) Qualified All-Age competitor and recent Qualifier for the Super Retriever Series Crown Championship.
"Scout" was born August 29th, and is currently in Hunters Creek Retrievers Puppy Head Start Training Program which includes: Top Dog Puppy Obedience Training: combining hand signals, whistle and verbal commands for Come, Sit, Heel and Stay; it also includes crate training, the first step in housebreaking. Add smiles, laughter, warm puppy kisses and a wagging tail of affection to your Holiday celebration with Scout, your Championship HuntersCreek Labrador Retriever Puppy, ideal for Field and Family.
Hunters Creek Retrievers Top Dog Training provides In-Home Private canine companionship, dog obedience and retriever training, personalized exquisitely for the entire family.
Support America's Patriots and salute a military Hero
Bid now and take home your Premiere HuntersCreek Retrievers Championship Lab puppy. Honor America's military service members and their families in the process. http://www.lonesurvivorfoundation.org/houstongala
The Lone Survivor Foundation is restoring renewing Hope for wounded service members and their families. They are a Federal 501(c)3 Non-Profit Founded in 2010 by Navy SEAL (Ret.) Marcus Luttrell.
Best Regards and God Bless America
Hunters Creek Retrievers - Champion Labradors for Field & Family