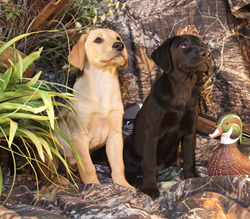 "Eternal Father, faithful friend, Be quick to answer those we send In brotherhood and urgent trust, On hidden missions dangerous, O hear us when we cry to Thee, For SEALs in air, on land and sea." ~ Marcus Luttrell
HOUSTON, TEXAS (PRWEB) September 03, 2015
Hunters Creek Retrievers is again honored to salute America's military heroes, by supporting the Lone Survivor Foundation with a champion AKC Black Lab Puppy. Celebrate Fall 2015 with unlimited Free Hugs and K9 Kisses from a premiere sporting, gun dog and canine companion, for friends and family to enjoy Thanksgiving and Christmas with an extra big smile.
This adorable trained Lab Pup is now receiving bids in the online silent auction with a winner to be announced on Saturday, September 12, during the LSF Gala and Auction in Houston, Texas. Help honor America's brave military heroes by offering a handshake to Army, Navy, Marine, Air Force and Coast Guard patriots in person, including featured guest speaker, retired U.S. Navy SEAL Marcus Luttrell, author of the best selling book, adapted for the blockbuster movie, "Lone Survivor."
"Hunters Creek Lone Survivor Texas Midnight Ryder" has over 40 Championship titles in his 6 generation pedigree including: (AKC) American Kennel Club, (FC) Field Champions, (AFC) Amateur Field Champions, (CNFC) Canadian National Field Champions, (CNAFC) Canadian National Amateur Field Champions, (MH) Master Hunters, (CGC) Canine Good Citizen and (TDI) Therapy Dog International, as well as (UKC) United Kennel Club, (UH) Upland Hunter, and (HRCH) Hunting Retriever Champion titles in a long distinguished lineage which boast, grandsire, HRCH UH Trinity's Riptide Ryder MH CGC TDI, who earned his UKC HRCH Title at 17 months, 16th youngest in chocolate Lab history. Another rare distinguishing quality of "RIP" is that he is a titled Therapy Dog. Rip's stud was the most Titled Chocolate Lab in history and littermate to the only Chocolate National Field Champion in history NFC AFC Storms Riptide Star.
"TEX" was born June 29th, 2015, and is currently enrolled in Hunters Creek Retrievers Puppy Head Start Training Program which includes: Top Dog Puppy Obedience Training: combining hand signals, whistle and verbal commands for Come, Sit, Heel and Stay; it also includes crate training, the first step in housebreaking. Add bigger smiles, more laughter, wet puppy kisses and a happy wagging tail of affection to the holiday celebration with "TEX", a Premiere Champion Black Labrador Retriever Puppy.
Hunters Creek Retrievers Top Dog Training provides Personalized In-Home Private canine companionship, dog obedience, retriever and gun dog training for the entire family, our youngest client was 3 years old and within a month could completely control the family dog.
Salute a Military Hero and Support America's Patriots.
BID NOW and take home a premiere sporting gun dog, your own HuntersCreek Retrievers Championship Black Lab Puppy while Honoring America's military service members and their families.
The Lone Survivor Foundation is restoring and renewing Hope for wounded service members and their families. LSF is a Federal 501(c)3 Non-Profit Founded in 2010 by Navy SEAL (Ret.) Marcus Luttrell.
,
Best Regards and God Bless America!
Hunters Creek Retrievers - Champion Labradors for Field & Family