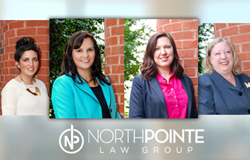 Our mission is to be the premiere legal service provider in the Lake Norman/Charlotte area by educating and guiding our clients in the comprehensive care of their legal needs, with sensitivity, creativity and integrity
Huntesville, NC (PRWEB) November 01, 2014
Northpointe Law Group located just north of Charlotte in Huntersville, North Carolina, recently announced its grand opening to the community. The Huntersville NC law office—which is owned by Kayce C. Staehle, staffed and operated by all top notch women—provides affordable legal services to anyone in the greater Charlotte, Mecklenburg, and Iredell county areas.
Huntersville attorney Kayce Staehle founded Northpointe Law Group in the summer of 2014 and now works alongside Lake Norman's most dedicated legal team offers affordable legal services in the areas of bankruptcy, DWIs/DUIs, real estate, estate planning, traffic tickets, and family planning. Staehle, Covington, and Laughridge consult with each client carefully—taking the time to gather all of the necessary facts—in order to prepare sound defenses that will result in fair court hearings for each of their clients.
Additionally, Northpointelaw.com offers a wealth of legal articles and information about specific practice areas of law on their legal blog. Before you meet with any attorney where fees may be incurred, their legal resources on their blog offers tips and useful background information about a wide variety of legal disciplines. For example, individuals concerned about their record in the case of DWI/DUI's can help helpful information via their article titled "Clearing Your DWI Record in North Carolina—Can It Be Done?" Northpointe Law discusses the probability of getting a record expunged and ways to go about doing so.
Northpointe Law Group is open Monday to Friday and offers free consultations upon request.
"Our mission is to be the premiere legal service provider in the Lake Norman/Charlotte area by educating and guiding our clients in the comprehensive care of their legal needs, with sensitivity, creativity and integrity," stated Attorney Staehle. "Relationships are the heart of our practice—we aim to offer each client the level of customer service and experience where they will consider us for all of their legal needs."
Individuals interested in learning more about Northpointe Law Group can visit the company's website for more information. Clients are also invited to connect and communicate via the companies various social channels Facebook, Google+, LinkedIn, and Twitter.
About Northpointe Law Group:
Northpointe Law Group owned by Kayce Staehle serves individual legal needs in the Huntersville and Charlotte North Carolina area. Their team of women attorney's, paralegals and office staff are dedicated to raising the quality care and legal outcomes for this clients in the Mecklenburg and Iredell County's. For more information, please visit http://NorthpointeLaw.com