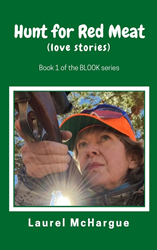 ...this book is as much about relationships and the majesty of the outdoors as it is about hunting.
LEADVILLE, Colorado (PRWEB) June 20, 2017
Laurel McHargue has hunted the "wily elk" with her husband in Colorado for three years and has captured the humor, beauty, and challenges of their hunting experiences in Hunt for Red Meat: Love Stories, a unique series of memoir-style essays available in paperback July 1, 2017. With photos, tips, and haiku poems, McHargue reveals how hunting with one's partner can engender feelings of love.
Raised in a family of five girls, McHargue remembers creating a list of what she wanted to be when she grew up. "It included things like singing, dancing, drawing, being a mom, and working as a cashier—those big old noisy machines fascinated me. I didn't even know what hunting was," said McHargue.
Her husband suggested they apply for hunting tags several years ago, and McHargue had mixed feelings. "I knew I was a good shot from my Army days and more recent target practice at our local shooting range, and I believe in population control of herds, but I wasn't sure how I'd feel about shooting an animal."
When asked why she ultimately agreed, she said she loved new challenges and wanted to know she'd be able to take care of herself and her family "in the event of a zombie apocalypse."
McHargue's past publications have not mentioned zombies, but her novels have included YA fantasy, folklore, dark humor and "loosely fictionalized" accounts of real events. She has a goal of publishing in as many genres as possible.
"Don't ask me what my favorite book is," she said, "because I read all kinds. I suppose that's why I want to write all kinds too; it's another personal challenge. Don't put me in specific genre box as an author. That would be too restrictive."
When a friend suggested she compile her blog posts into a book a few years ago, McHargue liked the idea immediately, and when another friend recently suggested a stand-alone book with just hunting stories, she agreed. "I think it makes sense to have a series of shorter books about focused topics rather than one huge book about everything," she said, "although even non-hunters will get a laugh out of this one."
As a bonus, Laurel includes an unusual account of her first time fishing for trout in the Gunnison River in Colorado with her husband and friends. "I could not make up a more unbelievable story," she said. "I still can't believe it happened."
McHargue hopes to inspire "seasoned hunters as well as never-gonna-hunters, husbands, wives, boyfriends and girlfriends, because this book is as much about relationships and the majesty of the outdoors as it is about hunting."
She also wants to inspire other authors to try writing in different genres because she believes "life is about finding opportunities to grow, learn, and overcome challenges, and the only way to improve your confidence is to put it to the test . . . often."
###
Laurel McHargue, a 1983 graduate of The United States Military Academy at West Point, was raised in Braintree, Massachusetts, but somehow found her way to the breathtaking elevation of Leadville, Colorado, where she has taught and currently lives with her husband. She established the Leadville Literary League, a charitable nonprofit with a mission to support local literary endeavors and the arts. She blogs about life, real and imagined, at leadvillelaurel.com.
Contact her for speaking engagements: Laurel(at)strackpress(dot)com and find her publications on Amazon.