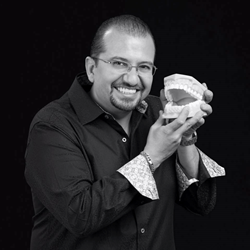 Huntington Beach, CA (PRWEB) March 30, 2017
Dr. Rassouli, a dentist in Huntington Beach, comments on the new study linking genetic defects in dental enamel with caries. Tooth decay is caused by the oral bacteria that live in plaque, but while poor dental hygiene is a major contributor to cavities, bacteria can also occur in people who practice good dental hygiene. Researchers recently focused their efforts on why some people with excellent dental habits develop cavities, while others with less careful habits do not.
Researchers from the Centre of Dental Medicine and the Institute of Molecular Life Sciences at the University of Zurich found that genetic mutations altered the way enamel developed. These mutations in the Wnt signaling pathway also play a role in the development of cancer and some other physical defects. The Wnt signaling pathway affects the way enamel proteins develop. In the study, which is described by MedicalXpress.com, every mouse with a defect in the Wnt signaling pathway had tooth decay.
Wnt signaling pathway defects were found to alter to hardness and composition of dental enamel, making it more easily penetrated by bacteria and acids. This leads to tooth decay even in those who maintain good dental hygiene. While more research is needed to better understand the nature of the defect, this study lays the groundwork for the development of new products to prevent tooth decay in those with weak or defective enamel.
The right preventive dental care, such as fluoride treatments and dental sealants, can help reduce the risk of decay even in those who are vulnerable. Dr. Rassouli also offers a wide range of treatment options, including:

Orthodontics, including Invisalign
Same day dentistry
Tooth whitening treatments
Tooth-colored fillings
Dental implants
Pinhole surgery
TMJ treatments
Sleep apnea treatments
Porcelain veneers
About Dr. Rassouli
Dr. Rassouli is a graduate of the University of Southern California and the co-founder of the South Coast Dental Academy. He served on USC's prestigious Century Club and the Accreditation Committee, and has been recognized for his commitment to continuing education.
Source: https://medicalxpress.com/news/2017-02-genetic-defects-tooth-enamel-conducive.html