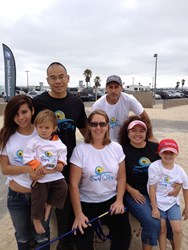 "I loved picking up trash on the beach. I had the best time ever." Jay Serrambana, age 5 1/2
Huntington Beach, CA (PRWEB) August 15, 2013
Surf City Lawyers is proud to announce they recently volunteered for the Orange County Bar Association ["OCBA"] Community Outreach Committee Beach Clean-Up event Saturday, August 10, 2013, at Huntington State Beach (Santa Ana River Jetties at the South End of Huntington Beach, near Brookhurst Street). Their participation, in connection with OCBA helped keep area beaches clean and raised awareness about the importance of taking care of the environment.
The date was Saturday Aug. 10th, Santa Ana River Jetties – Huntington State Beach Note: Enter at Brookhurst St./PCH. and drive South to the first parking lot and look for our blue surfrider tent.) Sponsored by Orange County Clothing Company. Attorney Christine A. Wilton says, "This was part of a continuing effort to make Huntington Beach, California a better place to work and live."
The event was sponsored by Huntington/Seal Beach Surfrider Chapter, which operates solely on donations and fundraising. The Chapter always has issues and programs requiring funds to operate. Chapter Board Members are volunteers, working to protect the oceans, waves and beaches for everyone through Conservation, Activism, Research and Education (CARE).
Surfrider Foundation was founded in 1984 by Glenn Henning, Tom Pratte and other Malibu surfers who were concerned about the possible loss of their favorite surf break. Over the years Surfrider has grown to be one of the premier grassroots environmental groups fighting to preserve precious coastal zone and are "Keepers of the Coast". "Being raised in Huntington Beach, it's important to keep the beaches clean, not only for the locals and visitors, but for the preservation of the environment," says attorney Anna Serrambana.
About Surf City Lawyers
Surf City Lawyers, located in Huntington Beach, Ca is a general partnership of two solo practice attorneys who provide legal and marketing services. Both attorneys continue to maintain separate practices. Christine A. Wilton of Law Office of Christine A. Wilton whose practice is consumer bankruptcy and student loan law; and Anna Serrambana of A & R Law Group whose practice focuses on Estate Planning, Trusts, Probate, Wills and Business Law