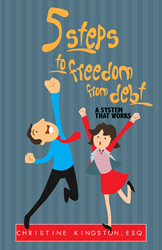 Take the 5 Steps Now!
Huntington Beach, California (PRWEB) June 09, 2015
Getting out of debt has never been easier than following a system that works by consumer protection attorney Christine Kingston who is a nationally known student loan and debt relief expert in private practice at Law Office of Christine A. Kingston in Huntington Beach, California. She wrote the book on getting out of debt! Her book, entitled, "5 Steps to Freedom From Debt" is available now on Amazon. Her book is profoundly simple advice that helps people make well informed decisions for themselves after exploring all of their options for getting out of debt, including bankruptcy. "I advise my prospective clients that it it will take longer than five years to get out of debt, then bankruptcy needs to be considered," says attorney Christine Kingston.
"Someone with $30,000.00 in credit card debt at 18% interest with $500.00/mo. payments will take 13 years to pay off; paying a total amount of $78,000.00! That same $30,000.00 of debt can be FULLY paid in FIVE (5) years under a court ordered repayment plan in Chapter 13 Bankruptcy with a $500.00/mo. payment at 0% interest. Even better, that same $30,000.00 can be discharged in Chapter 7 Bankruptcy with NO Payments. (Bankruptcy costs and Attorney fees vary and debtors must qualify). Focusing on the difference between repaying all the debt using the "snowball" method and a bankruptcy repayment plan is $48,000.00 ($500.00/month for eight (8) years)," says attorney Kingston.
Attorney Kingston adds, "Now imagine taking the $48,000.00 savings and investing it in a mutual fund that earned 6% interest. After Eight (8) years, that amount would grow to be $63,744.82! The person that filed bankruptcy and fully repaid their debt in Five (5) years, who then took the $500.00 monthly payment, invested in a mutual fund that earned a 6% interest over the next eight years, not only paid off all their debt, but also made $15,744.82."
Her book is currently available in paperback on Amazon, for under $18. As a consumer advocate for a debt free America, attorney Kingston is offering her book free through her blog, for a limited time to those in the southern Calfornia area.
About Law Office of Christine A. Kingston
Consumer protection and bankruptcy lawyer of Law Offices of Christine A. Kingston represents clients and their families facing financial difficulties, burdened by debts including taxes, student loans, credit cards, medical bills, law suits, fallen behind on home mortgage payments, or facing auto loans they can no longer afford. The firm has helped clients eliminate student loan debt and helped reduce principal mortgages through the bankruptcy process. The law firm is passionate about helping clients achieve financial freedom from their debts and fights oppressive debt collectors.
For more information please call 714-406-1653 or visit their website http://www.beachbankruptcylawyer.com/ for a free consultation, or a copy of her book.