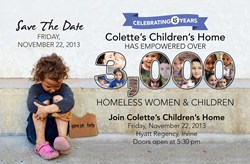 Help make a difference in a child's life this holiday season
Huntington Beach, CA (PRWEB) October 16, 2013
Surf City Lawyers is honored to announce its 1st Annual Toy Drive to Benefit Colette's Children's Home in Huntington Beach. From October 15, 2013 until November 29, 2013 donations can be dropped off at their offices located at 5011 Argosy Avenue, Suite 3, Huntington Beach, CA 92649 between the hours of 9 a.m. to 5 p.m., Monday to Friday. They are now collecting new, unwrapped toys for children infants to teens. Gift cards will also be accepted. "Holidays mean the most to children. As both a mother and business owner in Huntington Beach, it fills my heart with joy to bring happiness to children during this time of year," says attorney Anna Serrambana.
Colette's Children's Home, also located in Huntington Beach, CA exists to heal homelessness for women and children who are homeless with nowhere to turn. Since 1998, they have provided more than 3,000 women and children with a safe home and nurturing environment where they obtain compassionate support and services needed to achieve self-sufficiency. Please see their website for volunteer opportunities and upcoming events. Make a difference in a child's life this holiday season.
Attorney Christine Wilton said that giving back is a core value to Surf City Lawers. "Our mission is to make our community a better place to work, live and visit," says Christine Wilton.
Please direct any questions to: assistantberta(at)gmail(dot)com; or call 714-533-9210
About Surf City Lawyers
Surf City Lawyers, located in Huntington Beach, Ca is a general partnership of two solo practice attorneys who provide legal and marketing services. Both attorneys continue to maintain separate practices. Christine A. Wilton of Law Office of Christine A. Wilton whose practice is consumer bankruptcy and student loan law; and Anna Serrambana of A & R Law Group whose practice focuses on Estate Planning, Trusts, Probate, Wills and Business Law