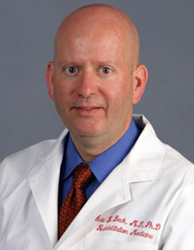 Finding out what the root problem is in the first place helps in ensuring that the most effective treatment is given
Huntsville, AL (PRWEB) December 03, 2015
At a recent published interview with physicians management group Doctor Relations, Dr. Eric Beck, a medical doctor in Huntsville, revealed that it is important to find out exactly what is causing the problem in a patient experiencing muscle numbness and pain.
"The root cause of muscle numbness and pain could range from simple muscle strain to nerve damage," said Dr. Beck.
"If the nerves are affected, treatments such as physical therapy, chiropractic treatment or acupuncture would not treat the nerve problem," he added.
This would mean that even with treatment, the problem would recur. Moreover, failure to get proper treatment for a nerve disorder as early as possible could ultimately lead to nerve damage, which is much more difficult to treat.
Dr Eric Beck has treated muscle and nerve disorders without surgeries and injections.
"Finding out what the root problem is in the first place helps in ensuring that the most effective treatment is given," said Dr. Beck.
This way, even if nerve damage is not present, the patient is assured that nothing is being overlooked. In case of nerve damage, however, a different type of procedure would be needed for treatment.
"Nerve damage has different degrees of acuity, with the most severe possibly ending up in paralysis, which could affect a person's life permanently," said Dr. Beck
However, the Huntsville medical doctor was quick to note that physical therapy is a valid form of treatment for muscle numbness in the absence of nerve damage. He offers nerve testing and encourages the same as part of the diagnostic process at the Valley Center for Nerve Studies and Rehabilitation.
"Once nerve testing has been performed on a patient, we are able to determine what form of treatment would be most appropriate," he said.
In fact, his medical practice staff includes a physical therapist and assistant that help with patients with muscle and skeletal complaints that are not suffering from nerve damage.
Dr. Beck is currently offering acupuncture treatment for neck and back pain. The coupon can be found on his website http://drericbeck.com/nerve-related/
"No one should learn to live with pain and pain killers. It's time to get a second opinion." said Dr Beck.
Dr. Beck's medical services are available to the residents of Huntsville, Birmingham, Brownsboro, Normal and Fort Payne. His areas of expertise include physical medicine and rehabilitation, pain management and electrodiagnostic medicine.