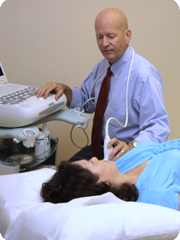 "It is important to acknowledge the people who are making a difference in another's life in big or small ways."
Huntsville, AL (PRWEB) September 19, 2014
Huntsville medical doctor Eric Beck is holding an "Honor an Everyday Hero" event for the local community.
"Everyday Heroes" are people in our local community that have done extraordinary acts of kindness in an effort to make a difference in someone else's life," said Dr. Beck.
These heroes can be ordinary folks -- local neighbors, co-workers, friends or even strangers.
"Most of us look up to great people in history, from our Founding Fathers, to the great scientists, to the first man to land on the moon;" Dr Beck added, "but how about also recognizing the day-to-day ordinary citizens who have done selfless acts on a daily basis?"
Huntsville residents can submit a story through Dr Beck's website, http://medicaldoctorhuntsvilleal.com, and nominate the person they believe is an everyday hero.
The first local hero winner is Ricky Parker. He is a firefighter for the Huntsville Fire Department and he works his off days part time for HEMSI, Huntsville Emergency Medical Services, Inc. At the same time, he is a loving husband and a dad. According to his wife, Melia Parker, "He is a great dad and a wonderful husband on top of being a hero for the community every day. Not only does he get up every morning ready to serve our community but he constantly puts others needs before his own."
"It is important to acknowledge the people who are making a difference in another's life in big or small ways." said Dr. Beck.
The Medical Doctor Huntsville has been actively involved in different community events that help children and the needy.
"I love to see people happy. Other than being a medical doctor to help someone to get healthier, another way to brighten up someone's day is to give back to the community," he said.
Dr. Beck proudly serves the residents of Huntsville, Birmingham, Fort Payne and the surrounding areas.
Visit http://medicaldoctorhuntsvilleal.com/ for more information on this event.