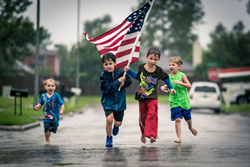 We hope that the beds and donations will provide some sense of comfort and security to these children.
LAS VEGAS, NV (PRWEB) September 06, 2017
Absolute Exhibits, a full-service exhibit design and manufacturing company, has announced that it will be constructing and donating 200 platform beds to the Houston Children's Charity to provide aid to children displaced by hurricane Harvey.
The beds will be built at the company's manufacturing facilities in Las Vegas, Nevada and Orlando, Florida after-hours this week and shipped to Houston on Sunday, September 10.
Absolute Exhibits is asking the Las Vegas and Orlando communities to bring new and unused toys, stuffed animals and backpacks to the company's facilities listed below.
Las Vegas, Nevada ‐ 6620 Escondido Ave, Ste E, Las Vegas, NV 89119
Orlando, Florida ‐ 7297 S Conway Rd, Ste 900, Orlando, FL 32812
Tustin, California ‐ 1382 Valencia Ave, Ste H, Tustin, CA 92780
Both locations will be accepting donations from Wednesday, September 6 through Friday, September 8 from 8:00 AM - 4:00 PM. Clothing will also be accepted but must be double wrapped in plastic trash bags and sealed with tape.
"With the devastating hurricane many children will be displaced from their parents and many won't be reunited for some time as parents will be struggling to get back on their feet," said Jan Koren, President of Absolute Exhibits. "We hope that the beds and donations will provide some sense of comfort and security to these children."
In addition, the company has organized a joint effort among the companies listed below to contribute to the cause.

Jerome's Furniture, San Diego, and the Navarra family
Malouf Sleep – Logan, Utah
Southshore Fine Linens – Las Vegas, Nevada
CalPlush – Los Angeles
EFI, Electronics for Imaging, Silicon Valley
A&M Supply, Orlando
McKillican American Lumber, Las Vegas
"Our employees, from builders to office staff and truck drivers to managers, have offered to donate their time to bring this vision to reality," said Todd Koren, CEO of Absolute Exhibits. "I'm incredibly proud of our team's commitment, and thankful for the generous donations from the contributing companies."
For more information regarding donation drop off, please contact one of the locations below:
Las Vegas, Nevada – Nicholas Teramura, Director of Project Manager – (702) 485‐0613; or George Morse, Senior Account Executive – (702) 505‐6678
Orlando, Florida – Norman Quintero, Project Coordinator – (407) 624‐2028; or Jessica Zipay, Project Coordinator – (407) 577‐1357
Tustin, California – Jan Koren, President – (714) 719‐ 6389
Media Visit: Members of the media are welcome to stop by the Las Vegas or Orlando locations any afternoon this week or Saturday for the building completion, consolidation of donated items and truck packing. Please contact the locations listed above for more information.
###
About Absolute Exhibits
Established in 2000, Absolute Exhibits is a family-owned, single-source exhibit house that specializes in the design and fabrication of custom exhibits at over 300 domestic and international trade shows, corporate showrooms and museums. Absolute Exhibits is headquartered in Tustin, California, with additional facilities in Las Vegas, Orlando, Chicago, Detroit, Würzburg (Germany) and Bucharest (Romania).
For more information, visit Absolute Exhibits.
About Houston Children's Charity
"A Better Night's Sleep" is one of a number of programs dedicated to improving the quality of life for Houston's underprivileged, abused and disabled children who have been otherwise left behind. The organization's goal is to leave no legitimate request for assistance unanswered.
For more information visit Houston Children's Charity.
About Jerome's Furniture
Founded in 1954, Jerome's Furniture is a third-generation family business, headquartered in San Diego, CA, with 13 home furnishings retail locations. Regarded fondly by generations of families, Jerome's is known as the best furniture retailer for everyday value ("Jerry's Price") and a wide selection of products. Recognized with numerous awards and a Top 50 retailer, customers know they can count on Jerome's. Jerome's offers complimentary design services, furniture removal services and augmented reality software to help customers achieve their optimal look. To learn more, visit http://www.jeromes.com.
About Malouf Sleep
Malouf Sleep has been innovating, manufacturing, and importing quality bedding products for over 13 years. Malouf's comprehensive product lines provides retail partners with the tools needed to enhance every mattress sale. Malouf now owns over one and a half million square feet of warehousing space between the east and west coasts, allowing for streamlined shipping logistics and faster transit times.
About Southshore Fine Linens
Southshore Fine Linens is a leading Home Textile Brand known for its quality, customer service and integrity. Its focuses on 100 % Extra Long Staple Cotton, Brushed Microfiber, and Cotton Flannel products such as Extra Deep Pocket Sheet Sets, Duvet Covers, Comforters, Quilts, and Decorative Pillows. Southshore Fine Linens is based in Las Vegas, Nevada.
About CalPlush
CalPlush supplies quality plush toys for several niche markets on a wholesale basis. We own and operate a factory overseas, and primarily specialize in serving Specialty Gift Stores, Amusement parks, Carnivals and Crane operators.
About Electronics for Imaging (EFI)
Electronics for Imaging (EFI) is based in Silicon Valley, with offices around the globe,. It is a worldwide provider in customer‐focused digital printing innovation with solutions that deliver increased performance, cost savings and productivity with award‐winning digital inkjet printers, inks and productivity software.
About A&M Supply
A&M Supply is as a leading distributor of interior building materials for the residential and commercial construction markets was founded in 1951 and is 100% Employee Owned. We distribute materials to millwork and furniture factories as well as professional woodworkers, contractors and general contractors; bringing value to customers via next day delivery from our eleven locations.
About McKillican American Lumber
McKillican American Lumber, founded in 1978 and headquartered in Edmonton, Alberta, is a wholesale building material distributor with 20 distribution centers throughout the United States and Canada. With over 10,000 customers, McKillican International, Inc. supplies the commercial millwork, residential and commercial cabinet, furniture & fixture, and retail building center segments with over 40,000 products sourced from 250+ vendors.
Press Contact:
Mike Plata
(714) 685-2818
mplata(at)absoluteexhibits(dot)com