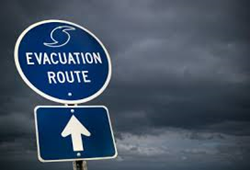 With hurricane season among us it is important for everyone in threatening areas to be prepared in case one strikes their home.
Chicago, IL (PRWEB) August 22, 2013
Hurricane season is a fact of life for many people throughout the country, and it's not just people located directly on the coastline that are affected by these powerful forces of nature. In fact, people located hundreds of miles inland can be affected by the damage that occurs with a hurricane. AlarmSystemReport.com, a site dedicated to providing alarm system reviews, created a list of home safety tips that can help homeowners avoid some of the damage and hardship that occurs with hurricanes.
1. Invest in a backup generator if possible, and always have a few extra cans of gas on-hand. For homeowners who do have backup generators, it's important to take them out of storage and ensure they're in proper working order before the start of hurricane season.
2. Hurricanes can wreak havoc on water systems, and make it undrinkable, so it's ideal to have at least three gallons of water on-hand in case of emergency. For people that live very close to a hurricane-prone area, it may be best to have water in 55-gallon drums designed specifically for food and water storage.
3. Consider the installation of wireless home alarm systems. A wireless system can typically operate even during a power outage, and in times of severe natural disasters, it's important to have an alarm system to prevent looting and other safety threats.
4. Remove unstable trees and limbs that are located around a home prior to the onset of hurricane season.
5. A home inventory is valuable to have, even for residents that don't live in places that are susceptible to hurricanes. Having a detailed home inventory will make it easier if an emergency or disaster does strike, particularly when dealing with an insurance company.
6. Create emergency supply kits for every member of the family. Emergency supply kits should have enough items for at least three days of survival, including food and water.
7. Create an evacuation plan, and alert every member of the family about this plan. If an individual or family doesn't have access to their own transportation, they should arrange with neighbors, friends or family members to have transportation in case of an evacuation.
8. Keep homeowners and flood insurance current to the present state of a home and its contents. Be aware of what's included in insurance policies before a disaster strikes.
About AlarmSystemReport.com
AlarmSystemReport.com is a leading third-party provider of information pertaining to the home safety, security and alarm industry. The site provides information for consumers to use when choosing alarm system companies. Additionally, AlarmSystemReport.com provides users with valuable pricing information, coupons and security system discount codes.