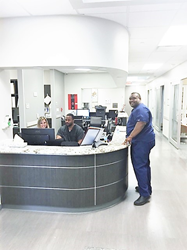 Houston, TX (PRWEB) September 01, 2017
SignatureCare Emergency Center staff used teamwork, being prepared and dedication to their communities to ensure two of their emergency room stayed open during the recent Hurricane Harvey: one in Harris County (Houston) and the other in Fort Bend County to treat medical emergencies during Hurricane Harvey. Many hospitals and other emergency rooms were forced to close because of massive flooding, and several had to evacuate patients from their facilities.
Hurricane Harvey hit the State of Texas as a category 4 on Friday and landed in the Houston area on Saturday, causing massive destruction, flooding and medical emergencies. The Houston Medical center area hospitals were forced to close and evacuate, but SignatureCare, which is a Freestanding Emergency Room, together with their staff worked overtime to ensure residents had a place to go for medical emergencies.
"We have seen patients with varying types of trauma, some caused as a result of injuries from the hurricane and some with existing injuries during the past few days. But every patient we have seen was grateful we were open because many facilities had to close," said Aaron Braun, SignatureCare's Chief Medical Director. "It takes a village as they say, and we are part of the communities we serve and with teamwork we were able to keep two major locations open to treat emergencies," Braun continued to say.
The ER locations on 1014 Wirt Rd in Houston and 8910 Hwy 6 S, in the Mission Bend area were both open and have not closed and will continue to see patients as the flooding may still cause medical issues for residents of Houston. SignatureCare has five Houston area emergency rooms, all operating and seeing patients. You can visit their website for directions to the closest location and be seen if you have any medical emergency during this time and any other.
About SignatureCare Emergency Center
Licensed by the Texas Department of Health Services, SignatureCare Emergency Centers are freestanding emergency rooms that are always open. SignatureCare has multiple locations in the Houston area with each offering state-of-the art medical imaging, and X-rays. All our emergency rooms are fully staffed with medical professionals, including board-certified physicians, licensed nurses, radiology technicians, and emergency-trained ancillary staff. All SignatureCare Emergency Centers are open 24/7-365 days a year.
For more information on SignatureCare Emergency Center and its locations visit https://ercare24.com.