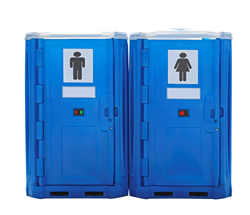 Poo & Pee Portably
(PRWEB) September 08, 2017
As many professionals will tell you recovering from a disaster usually begins well before the disaster even occurs. In fact, disaster preparedness is something that usually occurs on an ongoing basis at the local, state, and federal government levels. One thing that usually doesn't get much attention during and after a disaster is sanitation such as showers and restrooms. Recovery workers and disaster victims often need places to clean themselves up and use a safe, comfortable restroom. Of course, after a hurricane there can be significant damage to buildings and the surrounding infrastructure making clean and safe restrooms hard to find. In addition to this, shelters that house survivors often don't have the capacity to handle the increased restroom activity as well. This is where portable sanitation, usually in the form of porta-potties and restroom trailers, come in handy.
If a disaster is looming on the horizon, portable sanitation companies can be hired to help stage equipment around a community to prepare for the upcoming recovery. For example, porta-potties can be stored in warehouses, near potential shelters, and even at government facilities in anticipation of the upcoming need. In this way, after the disaster occurs, the portable toilets will be readily available and can be quickly deployed to expedite recovery and provide much-needed help to workers and survivors.
Even if you don't have time to stage equipment and restrooms for an incoming disaster, such as a hurricane, many portable sanitation companies already locally store their porta potties and restroom trailers near urban communities. This can help a company make a quick response when they are called to bring and setup porta potties and restroom trailers. In either case, the most crucial time to have portable sanitation on hand is during the recovery period of a disaster. When a disaster is widespread, it's important to strategically locate porta potties and other sanitation equipment around the effected areas and adjacent to shelters and recovery centers so that can be utilized to the maximum extent practicable.
Disasters can be tough to deal with and having clean, comfortable, and properly located portable toilets can help make recovery easier for everyone. Disaster victims will have one less thing to worry about and recovery workers can focus on doing their jobs and saving lives instead of worrying about when and where they will be able to relieve themselves. Having portable sanitation equipment available before and during a disaster is just one of many key ways to bring about a safe and quick recovery. For these reasons, porta potty rental companies around the nation are mobilizing to help municipalities and their citizens begin the long process of returning to normalcy after these most recent hurricanes. For emergency hurricane portable sanitation relief visit http://www.viprestrooms.com or call 1(888) 437-0062