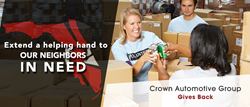 We feel fortunate to be able to help those in need at this moment. So many lost their food supply in the power outage, and also were not able to work to earn money to replenish their loss. We hope that others that are also able can join the Crown Dealerships family in support and solidarity
St. Petersburg, FL (PRWEB) September 21, 2017
Crown Automotive Group is hosting a week long Food Drive in partnership with Florida Dream Center of Pinellas County, FL. The food drive will benefit those affected by the recent hurricane and distributed in locations released by the Florida Dream Center where anyone in need can pick up supplies.
"We feel fortunate to be able to help those in need at this moment. So many lost their food supply in the power outage, and also were not able to work to earn money to replenish their loss. We hope that others that are also able can join the Crown Dealerships family in support and solidarity as we help strengthen our community after the Hurricane. Whether it's one can or one bag of non-perishable food, every contribution is needed, and it all goes a long way," said Jim Myers, president of Crown Automotive Group.
The dealership group has placed donation bins in its Pinellas county dealerships and has released a short list of suggested non-perishable items:

Canned Vegetables
Canned Fruits
Canned Meats
Canned Pasta Sauce
Rice
Beans
Pasta
Cereals
Residents of the area are encouraged to donate as many non-perishable items as they can. A full list of dealership drop off locations was also released through the company's website.
Crown Automotive Group also announced plans to make significant financial contributions to the Florida Automobile Dealers Charitable Foundation. This fund will help employees of the Florida Automobile Dealers Association in the areas devastated by Hurricane Irma.
Crown will also make a sizable donation to relief efforts in the Keys and Southwest Florida through the Salvation Army.
ABOUT CROWN AUTOMOTIVE GROUP
Over the last 40 years, Crown Automotive Group has grown into one of the largest privately owned dealership groups in the nation with operations in Florida, Ohio, and Tennessee.
Every Crown Automotive dealership features an extensive selection of new, certified, and meticulously inspected pre-owned vehicles with financing options for every budget.
Customers can also expect superior service from a team of highly trained technicians at Crown's signature award-winning service facilities. Driven by four core values: Customer Focus, Teamwork, Integrity and Growth, the group is committed to providing each customer with "The Better Way To Buy."