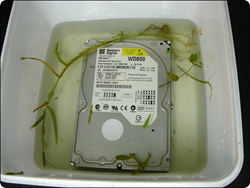 When dealing with a flood-damaged hard drive, the first thing to keep in mind is: don't assume your data is lost.
Tampa, Florida (PRWEB) October 07, 2016
DIGITAL EVACUATION AND PRECAUTION LIST:

Unplug all computers, chargers, etc.
If possible, upload data to cloud storage or backup data to redundant media sources.
If in a possible flood area move computers to safe environment – take mobile media such as laptops, tablets, etc. with you should you be in an evacuation zone.
Even if you are taking your laptop, tablet, or mobile phone with you to a safe evacuation area try to back up the data to protect against data loss. Should you drop your devices or they become excessively exposed to the elements, backing up your data to redundant devices or the cloud could be the difference between returning home with your data intact or lost.
Most importantly, start this process sooner than later. Waiting until the last minute to heed evacuation warnings will not afford you the time to ensure against data loss and other more serious threats.
While they may not be able to help with other perhaps more immediate or serious affairs, few companies have as much experience dealing with the recovery of storm or flood damaged hard drives than DTI Data Recovery.
After hurricane Katrina devastated the Gulf Coast and ravaged New Orleans the company featured on the New Orleans local CBS affiliate was DTI. In the wake of Katrina, Jerry Seregni host of Digital Gumbo was asked by his viewers where they could send their home computer hard drives or business servers to begin the restoration of their digital lives and livelihood. Jerry Seregni had worked with DTI previously and immediately reached out to DTI Data to address this question for his viewers. Jerry interviewed DTI Data owner David Mohyla and posted a "Questions and Answers" interview. Jerry later won a local award for this interview.
The interview discussed what most likely happened to drives that have been sitting in flood water and how to package those drives for shipment. The saying the "Devil is in the details" may be an understatement when it comes to triage and packaging of water damaged electronic storage devices, such as a hard drive. This information helped many residents and businesses save data that may have been otherwise unrecoverable. Warnings to not apply power to flood damaged hard disks and packing them in a way that kept corrosives from bonding to platter surfaces were paramount in sustaining DTI Data's high recovery rates.
Furthermore, DTI's corporate headquarters is located in the Tampa Bay area of Florida. Every hurricane season DTI sees an abundance of flood, electrical and otherwise storm damaged hard drives. Their location also makes DTI the closest hard drive manufacturer authorized data recovery clean room to the Caribbean.
The forecast predicts Hurricane Matthew to move along Florida's East Coast affecting areas from Miami to Jacksonville. DTI's Orlando, FL office will be open to assist our East Coast residents and businesses as will our Tampa/St Petersburg, FL, offices.