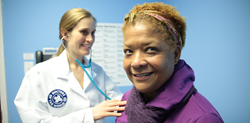 "Some of our patients haven't seen a doctor in ten, twenty, thirty years. We've been able to help them address layers of untreated health conditions..."
New York, NY (PRWEB) October 27, 2014
One year ago, Doctors of the World USA opened a free clinic in the Rockaways, the first project in the United States of the global non-profit Médecins du Monde network. The clinic was created to provide free, comprehensive medical services to area residents in light of the devastating impact Superstorm Sandy had on the Rockaways, and in response to an alarming absence of quality, affordable healthcare.
Since last year, the clinic—staffed mainly by volunteers—has served 250 patients for a total of nearly 700 visits. In addition to free medical consultations, the clinic offers free lab tests and medication.
The Rockaways Free Clinic has already made significant headway in helping residents overcome longstanding barriers to care. "Believe it or not," says Miranda Sissons, the executive director of Doctors of the World USA, "some of our patients haven't seen a doctor in ten, twenty, thirty years. We've been able to help them address layers of untreated health conditions and connect them with mental health support, insurance enrollment, and social services that are key to achieving good health."
The Rockaways, an isolated area of New York City with high rates of poverty and chronic disease, has long been plagued by inadequate health services. But the situation became precipitously worse in 2012. In April, Peninsula Hospital closed, leaving only St. John's Episcopal Hospital. Then after Sandy hit in October 2012, many private clinics and doctors' offices shut down.
Superstorm Sandy took a direct toll on people's health. In a comprehensive survey of Rockaways residents released last month by Doctors of the World USA and Columbia University, 23 percent said their health declined after the storm. Data also showed a strong correlation between lingering material damages and post-storm stress, depression, and anxiety.
"We certainly have our work cut out for us," shares Sissons. "As much headway as we've been able to make, we are eager to expand the capacity of our clinic. This means raising additional funds and attracting more medical volunteers. But we also know one clinic is not enough. That's why we keep working with our partners—community organizations, healthcare providers, elected officials, and residents—to strengthen local healthcare infrastructure. Our goal is to help the health system in the Rockaways withstand future disasters and finally, at long last, deliver the kind of sustainable, affordable, and quality care that is so badly needed."
DOCTORS OF THE WORLD
Doctors of the World USA is a US non-profit that is part of the global Médecins du Monde network, which provides emergency and long-term medical care to vulnerable populations while fighting for equal access to healthcare worldwide. Founded in France in 1980, the network cares for the most vulnerable through 350 programs in 79 countries worldwide.
In the immediate aftermath of Superstorm Sandy, Doctors of the World USA supported the Rockaways community by assessing health needs of the affected and displaced residents and connecting them with volunteer doctors. In October 2013, the organization opened the Doctors of the World Rockaways Free Clinic, which provides free medical care to the uninsured and undocumented residents of the area.