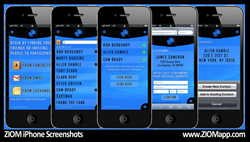 With the 'white pages' having gone the way of the dinosaurs, we knew the need existed for a person to be able to create their own personal address directory
Sarasota, FL (PRWEB) November 19, 2013
Hurst Capital today announced a new addition to the company's intellectual Property (IP) portfolio with the patent application for the system, method and computer program for updating contact information with socially-sourced data. The Company has integrated this technology into a new IOS and Android-based application called ZIOM.
The IP and ZIOM result in a secure personal physical address application that allows users to request and store physical addresses for friends, family and business associates. The 'request address' feature makes it easy to socially-source and build up professional and personal correspondence databases in order to facilitate sending birthday, wedding and birth announcement cards, wedding and party invites, holiday gifts, etc.
ZIOM in its alpha iteration is available as a free application from the iTunes store with no service fee, ever. It is secure and is not a public directory – addresses are shared only with those the user chooses to share with. ZIOM will reach out to designated friends and associates though text and email to securely request their physical addresses. In its current iteration ZIOM is easy to use and takes less than 30 seconds to get started with a completely frictionless process, as shown in this video.
Although an iPhone, iPad or iPod is needed to install ZIOM with Android OS coming soon, a user can send an address request to anyone and recipients do not need the app to submit their address back. Each request generates a secure unique URL specific to each user and the HTML5 page URL is cross-browser, cross-platform compatible.
Once a user enters their address into the web browser, they will never have to do it again, and when a user updates their address in the application, it automatically syncs the new update to everyone they have shared it with. ZIOM makes it possible to request addresses from contacts in the morning and have a completed address book by lunch. The laborious task of manually entering contact addresses has been made super simple by crowd-sourcing the work.
"Having been so entrenched in this age of predominantly digital communication, we asked ourselves what is one aspect of contact and data management that has been unappreciated and underutilized on a personal level," said Mike Smith, Hurst Capital principal. "Our team thought about it long and hard and realized that people still need to send birthday cards, gifts, ship materials, etc. and that not everything is done via the internet. We created the IP, filed the patent and have created ZIOM to make it easy to build up your personal address book using your already existing electronic contact information, so that in this increasingly mobile society you can keep track of where your friends and family really are."
"With the 'white pages' having gone the way of the dinosaurs, we knew the need existed for a person to be able to create their own personal address directory," continued Mr. Smith. "When using ZIOM, you no longer ruin the surprise of sending an unexpected gift by having to ask for someone's address in advance. While we use electronic communications for almost everything these days, there are still events that call for the physical delivery of a card or gift – wedding invitations, birth announcements, thank you notes and birthday, holiday and condolence cards. ZIOM is designed to make life a lot easier for anyone who finds themselves having to do these things."
ZIOM is not a searchable database for outsiders, ZIOM uses a secure cloud infrastructure to safely store your vital contact information and through the request address function only reveals your address to those whom you grant access. It's 7.0 MB in size, requires iOS 6.1 or later and is compatible with iPhone, iPad, and iPod touch. It is completely free and available over iTunes at https://itunes.apple.com/us/app/ziom/id714996463?ls=1&mt=8. For more information please go to http://www.ziomapp.com.